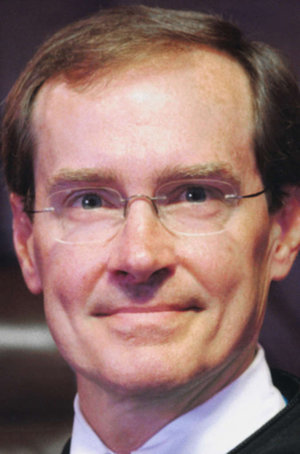 A Pennsylvania judge has blocked the state's controversial Voter ID law from taking

effect come November, ruling five weeks before the general election that those who turn out to cast ballots need not show poll workers photo identification.

Commonwealth Court Judge Robert Simpson issued his ruling on Oct. 2, the deadline that had been given by the Pennsylvania Supreme Court, which had recently vacated Simpson's previous ruling upholding the law, and sending it back down to the lower court for additional review.

In his 18-page opinion, Simpson said he was not convinced that the so-called "liberal access" requirement in the law – the idea of voters being able to easily obtain photo ID cards – was being met, especially this close to a federal election.

When the law first came before Simpson, he upheld its facial constitutionality, although the jurist conceded that some voters might be disenfranchised.

His initial decision was appealed to the state Supreme Court, which in mid September vacated Simpson's prior ruling, and sent it back to the same judge for more review.

The Supreme Court, in its decision, instructed Simpson to issue a preliminary injunction if it was determined that people were having difficulty obtaining ID cards.

Attorneys for the plaintiffs – a handful of elderly, poor and minority voters who claimed disenfranchisement – had argued that people were encountering roadblocks in their attempts to obtain photo identification from Pennsylvania Department of Transportation facilities.

The Pennsylvania Department of State, which oversees elections, began issuing special Voter ID photo identification cards in order to unburden voters, but questions still loomed about disenfranchisement this close to an election.

In his Oct. 2 memorandum opinion, Simpson wrote that as of the most recent hearing on the matter, between 9,300 and 9,500 PennDOT IDs had been issued, and between 1,300 and 1,350 Department of State IDs had been issued, not enough to convince Simpson that the law could move forward by November.

"I expected more photo IDs to have been issued by this time," Simpson wrote. "For this reason, I accept Petitioners' argument that in the remaining five weeks before the general election, the gap between the photo IDs issued and the estimated need will not be closed."

Simpson said he was obliged to issue a preliminary injunction enjoining the law from taking effect by November since he is not convinced that there will be no voter disenfranchisement.

While no doubt hailed by opponents of the law as a step in the right direction, Simpson's ruling still does not strike down the legislation as unconstitutional, with the judge repeating his prior determination that voter disenfranchisement does not come when poll workers ask voters for ID.

"First … I reject the premise upon which Petitioners' argument is based," Simpson wrote. "That is, I reject the underlying assertion that the offending activity is the request to produce photo ID; instead I conclude that the salient offending conduct is voter disenfranchisement."

Therefore, Simpson ruled, poll workers can still ask voters for ID during the upcoming presidential election.

Voters, however, could turn down the request.

Simpson ruled that disenfranchisement actually is found in the part of the law that deals with provisional ballots.

The law had allowed voters without ID on Election Day to cast provisional ballots, and then produce photo identification at a later date.

But Simpson determined that disenfranchisement could occur if the person casting a provisional ballot could not obtain photo ID in time.

"It is this part of the process which must be enjoined to prevent disenfranchisement," Simpson wrote. "Consistent with this expressed intent, and consistent with principles of severability, I will enjoin enforcement of those provisions of Act 18 which amend the provisional ballot procedures of the Election Code and cause disenfranchisement based on failure to present photo ID for in-person voting.

A future trial on the merits of the law could still occur.

It is likely that Simpson's latest ruling would be appealed to the Supreme Court.

Simpson's decision has gotten mixed reaction.

State Rep. Daryl Metcalfe, the Butler County Republican who was one of the architects of the Voter ID law, slammed the judge's ruling as "judicial activism."

"Although I am pleased that a full injunction was not granted and that Pennsylvania will at least have some voter photo identification requirement and new absentee ballot provisions in place this November, [Judge] Simpson's final decision is out of bounds with the rule of law, constitutional checks and balances for the individual branches of state government, and most importantly, the will of the people," Metcalfe said in a statement released by his office. "Rather than making a ruling based on the constitution and the law, this judicial activist decision is skewed in favor of the lazy who refuse to exercise the necessary work ethic to meet the commonsense requirements to obtain an acceptable photo ID."

On the social networking site Twitter, the ACLU of Pennsylvania, which filed the initial lawsuit challenging the Voter ID law, signaled that Simpson's ruling is a partial win.

"Back to State Supremes," the civil rights organization tweeted. "New ruling means a new appeal. Judge Simpson asks Justices for guidance on some issues in his decision."

The group also tweeted, "For those asking: We can go back after this election to argue for a permanent injunction against [the law]."

Simpson's ruling Tuesday made national news.

It was the top story on CNN's website for some time throughout the day.