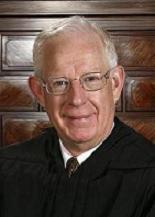 Jerry Sandusky, the onetime defensive coordinator for the Penn State Nittany Lions who

was sentenced this week to up to six decades in state prison for sexually abusing 10 young boys during a 15-year time period, has been ordered to register as a sex offender – if he is ever released from prison.

An Oct. 9 order by Judge John M. Cleland, which was filed at the Centre County Court of Common Pleas, says that "clear and convincing evidence" determines that Sandusky is, indeed, a sexually violent predator as defined by Megan's Law.

A hearing was held last month after prosecutors requested that Cleland designate Sandusky a sex offender.

One piece of evidence was a report by Robert M. Stein, a doctor with the Pennsylvania Sexual Assessment Board, which supported prosecutors' assertion that Sandusky is a sexually violent predator.

The court also sent Sandusky and his attorneys a Megan's Law Notice, which informs the prisoner of his newly defined status, and requires him to register with the Pennsylvania State Police upon his release from incarceration.

Most legal observers believe, however, that Sandusky will never again see freedom, since a 30 to 60 year prison sentence at his age – Sandusky is nearing 69 – essentially translates to a life sentence.

Cleland, the judge specially assigned to oversee the case, sentenced Sandusky at the Centre County Courthouse in small Bellefonte, Pa. on Tuesday before a throng of local, state and national media representatives.

Sandusky was once the popular defensive coordinator for Penn State's well-renown college football team, but that changed after his November 2011 arrest following a grand jury presentment.

In late June, Sandusky was found guilty of 45 out of 48 counts of child molestation stemming from claims that dated back to the 1990s.

It is believed that Sandusky had met many of his victims through The Second Mile, a charity designed to help disadvantaged youth that Sandusky founded in the 1970s.

On Tuesday, following Sandusky's sentencing, Pennsylvania Attorney General Linda Kelly released a statement praising the punishment.

"I am pleased with the outcome of this case and satisfied with the appropriate sentence that the judge has imposed," Kelly says in her statement. "It reflects the seriousness of Jerry Sandusky's crimes, the irreparable harm he has caused to so many and the need to remove him from society for the rest of his life."

Sandusky continues to profess his innocence, going so far as to release a statement to the media just prior to sentencing in which he blames prosecutors, the media and even the victims themselves for participating in a grand scheme to have him sent to prison.

Victims spoke out during sentencing, local media reported, with one chastising Sandusky for not pleading guilty from the get-go and taking responsibility for his crimes.

Meanwhile, the Pennsylvania Department of Corrections this week announced that Sandusky will undergo physical and psychological testing, as is standard in any case of inmate intake, to determine what state prison will best suit Sandusky's needs.