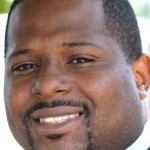 The former Philadelphia jurist who allegedly showed two photographs of his, well,

"willy," to a court staffer was chastised this week by Pennsylvania's Court of Judicial Discipline.

Willie F. Singletary, who served as a Philadelphia Traffic Court Judge from Jan. 7, 2008 until he resigned his post on Feb. 27 of this year, was reprimanded by the CJD in an 18-page opinion Oct. 9 that said Singletary's conduct was "so extreme as to bring the judicial office into disrepute."

Singletary, 31, had resigned from the bench after being accused of showing cellphone pictures of his erect penis to a female cashier during a night shift at Traffic Court late last year.

The woman, identified only as "F" in court papers, who is in her early 20s, subsequently reported the incident to police and judicial officials.

The CJD was tasked with determining whether or not Singletary had violated the Rules Governing Standards of Conduct of Magisterial District Judges and the state constitution.

The court took up the case after receiving a complaint that had been filed back in March by the Pennsylvania Judicial Conduct Board, an action that followed an investigation that the board had undertaken in January of this year.

The investigation stemmed from a late December 2011 incident in which Singletary, while working a nightshift hearing cases in Impoundment Court, allegedly showed the pictures of his penis to "F."

According to the CJD's Findings of Fact, Singletary had struck up a conversation with the cashier during a slow time of the evening, during which he showed her various photos on his cellphone camera, which included family shots and other images.

The woman then noticed the two photos of Singletary's erect penis, images that apparently were taken during an intimate encounter between Singletary and another woman, the opinion states.

Singletary went on to claim that he was unaware the photos had still been saved to his phone.

The following day, the woman reported the incident to a friend who is a Philadelphia police officer, who in turn brought the situation to Common Pleas Court Judge Gary Glazer, currently the administrative judge of Traffic Court.

Singletary, who claimed that he was not initially aware the woman had been bothered by what he had claimed was an unintentional act, eventually resigned his post.

In its opinion, the CJD determined that the Judicial Conduct Board did not establish a violation of the Rules Governing Standards of Conduct of Magisterial District Judges "by clear and convincing evidence," but it did determine that Singletary's actions brought the judicial office into disrepute in violation of Article V, Section 18 of the Pennsylvania Constitution, leading Singletary subject to discipline.

The CJD disagreed with Singletary that his actions were unintentional, with the judges agreeing with the Judicial Conduct Board that "taking photographs of one's erect penis is a 'memorable event.'"

"We also mention that they weren't stored in Respondent's phone for nothing – they were stored in his phone for re-viewing. What else?" the opinion states. "We find that Respondent knew the photographs of his penis were in his phone and that he showed them to F intentionally."

The CJD went on to write that even if it was to assume that Singletary forgot the photos had been stored in his phone, "we will not permit Respondent's capricious memory to trespass upon our analysis of whether there is the element of mens rea here sufficient to require a finding that Respondent's conduct was such that brings the judicial office into disrepute.

"We will not permit a claimed capricious memory to rescue Respondent from responsibility for the distressful culmination of a chain of events which he intentionally set in motion," the court continued. "We hold that a judge who intentionally grooms his penis for photography, and then intentionally photographs his penis for the purpose of display to others, had better remember that the photographs are in his phone lest they 'slip out' at some inopportune (albeit unplanned) time under circumstances which are likely to offend another person or persons, for, if they do, we will hold such conduct satisfies the 'mens rea requirement' so as to support a finding that the conduct is such that brings the judicial office into disrepute."

A CJD accompanying order states that the Judicial Conduct Board and Singletary have 10 days in which to submit objections to the court's findings, if either party chooses to do so.

If not, the findings shall become final, and the CJD will issue an order setting a date for a hearing on the issue of sanctions.

The Philadelphia Inquirer reported that such penalties could possibly include barring Singletary from holding future judicial posts.

The newspaper also quoted Singletary's attorney, John S. Summers, as saying that his client plans to file an objection to the CJD's opinion.

Singletary was no stranger to controversy prior to the cellphone camera incident.

When he first ran for Traffic Court, he was caught on video, while attending a rally, saying he would give preferential treatment to those who would come before him with traffic ticket issues if they donated to his campaign.

Singletary also made headlines when it was discovered that prior to his election to Traffic Court, he had amassed more than $11,000 in traffic tickets and a suspended license.

The fines were eventually paid and his license was restored.

Philadelphia Traffic Court judges are elected. Candidates need no legal background or training.