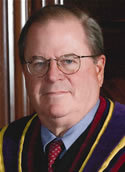 Figures released by the Administrative Office of Pennsylvania Courts this week show that

statewide revenue taken in by the courts reached nearly a half billion dollars in 2012.

Magisterial district courts and Common Pleas criminal courts collected and disbursed to the state, counties, municipalities and victims a total of $469 million in fines, costs and restitution last year alone.

More than $211 million, or 45 percent of that total, was distributed to the state, $165 million, or 35 percent, was dolled out to individual counties, $52 million, or 11 percent, went to municipalities, and $36 million, or 8 percent was paid to crime victims as restitution, according to the figures, which were compiled by the Pennsylvania Supreme Court.

Court leaders said the judiciary has collected far more in court-ordered payments than it receives in state funds to operate.

"Although the judiciary's fundamental function is the delivery of fair, timely and accessible justice, the collection of court-ordered financial sanctions is important, not just in terms of dollars but also in restoring victims' lives and in enforcing the rule of law," Pennsylvania Supreme Court Chief Justice Ronald D. Castille said in a statement released by the AOPC. "Of the $469 million collected, little flows back directly to the courts."

Most of the money collected by the courts get placed into specific funds, such as the state's motor license fund, and a small portion of the funds collected for the state get deposited into the Judicial Computer System Account to support court statewide automation, the AOPC announced.

The funds dispersed to counties and municipalities support local government programs.

The judiciary's county-based Magisterial District and Common Pleas case management systems provide numerous features to help improve court collections, the AOPC's news release states. Among those features is the ability to generate customized court payment delinquency letters and to share information with the Pennsylvania Department of Transportation for suspension of driver's licenses of defendants who fail to pay court costs arising from traffic violations.

The AOPC highlighted one web feature, titled "E-pay," which is an application that allows defendants to conveniently make payments using a debit or credit card, as an example of yet another tool that has helped improve court collections.

"By providing an easy way to settle these court-ordered costs, defendants can avoid facing arrest, contempt of court proceedings, driver-license suspensions and/or additional collection agencies' fees," Castille said in his statement.

Court officials have also noted that many defendants are on monthly payment plans to settle court-ordered financial sanctions over a multi-year period, and that large court penalties, such as hefty restitution assessments, may not be paid in full for between one to two decades.

The AOPC has determined that after four-and-a-half years, 95 percent of all the Magisterial District assessments and 42 percent of Common Pleas Court assessments were collected.