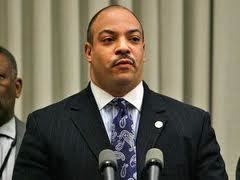 In what seems to have become a common trend as of late, the Philadelphia District

Attorney's Office has once again made arrests in connection with alleged fraudulent personal injury claims filed against SEPTA.

Ten people were recently charged with submitting false injury claims against the Southeastern Pennsylvania Transportation Authority stemming from an April 5, 2010, incident involving the route "C" mass transit bus.

According to the office of Philadelphia District Attorney R. Seth Williams, the 10 commuters claimed they were injured after the exterior side view mirror of the bus came into contact with an abandoned newsstand.

Surveillance video from the bus, however, showed that no passengers who were riding the vehicle at the time appeared disturbed or made any sudden movements as a result of the incident, the D.A.'s office announced.

Philadelphia police did not respond to the accident scene and no one riding the bus at the time reported injuries to the driver.

Nevertheless, Williams' office stated, SEPTA soon received notices of personal injury claims from seven different area law firms representing the 10 defendants.

Tasha Jamerson, spokeswoman for the D.A.'s Office, told the Pennsylvania Record that her office could not release the names of the lawyers who had filed the personal injury claims, or the law firms for which they work, because none of them had been charged with any crimes.

The injury claims sought money from the mass transit agency for medical bills and pain and suffering.

The medical bills included visits to emergency rooms and trips to various chiropractors' offices, according to the prosecutor's office.

The settlement requests from the allegedly injured passengers sought compensation ranging from $5,000 to $225,000.

Furthermore, Williams' office stated, detectives with the Insurance Fraud Unit determined, through the use of surveillance video and a witness list filled out by the bus operator, that only six of the 10 people who filed the injury claims were actually on the bus at the time of the incident.

The video on the bus also contradicted specific details of the claims that were filed by the defendants, the D.A.'s office stated.

One of the defendants, 65-year-old Jackie Greene, resides in Montgomery County. The rest hail from Philadelphia.

The other nine defendants are Bilah Taylor, 22, Shera Bernard, 25, David Childs, 29, Debra Smith, 52, Tonya Wells, 45, Manuel Patton, 41, Thelma Webb, 32, and Saiyd Yancey, 29.

Assistant District Attorney Michael Kershaw and Donald Murtha, a detective with the Insurance Fraud Unit, have been assigned to the case.