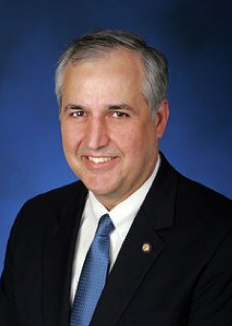 The U.S. Supreme Court's recent decision allowing police to collect a suspect's DNA even

before a criminal conviction is rendered has helped clear the path to revamp Pennsylvania's own DNA collection statute.

Following the high court's opinion this week, state Sen. Dominic Pileggi, a Republican from suburban Philadelphia, announced that he plans to move forward with Senate Bill 150, which he says is designed to "modernize and strengthen" the commonwealth's DNA collection law.

"We know from the experience of other states that this kind of DNA collection will help solve violent crimes, and it will get violent serial offenders off the streets – literally saving lives," Pileggi, the state Senate's majority leader, said in a June 3 statement. "In light of today's decision, Pennsylvania should move quickly to enact Senate Bill 150."

The U.S. Supreme Court's decision in the case of Maryland v. King held that "[w]hen officers make an arrest supported by probable cause to hold for a serious offense and bring the suspect to the station to be detained in custody, taking and analyzing a cheek swab of the arrestee's DNA is, like fingerprinting and photographing, a legitimate police booking procedure that is reasonable under the Fourth Amendment."

At the state level, S.B. 150, which was sponsored by Pileggi, authorizes a new type of DNA search to help identify suspects in unsolved crimes, strengthens privacy protections, and requires DNA laboratories and technicians to meet national standards, according to the senator's office.

"Pennsylvania can – and should – be taking better advantage of this powerful tool," the majority leader said in his statement. "Using DNA efficiently and properly helps investigators identify criminals while also helping to exonerate the innocent."

According to Pileggi's office, the state bill is supported by the Pennsylvania Coalition Against Rape, the Pennsylvania District Attorneys Association, the Pennsylvania Chiefs of Police Association, the Pennsylvania State Troopers Association, the Pennsylvania State Lodge of the Fraternal Order of Police, and the national organization called DNA Saves.

Others, however, are not as quick to support bills of this nature.

In a statement, Steven R. Shapiro, the legal director of the American Civil Liberties Union, said the U.S. Supreme Court's recent decision in Maryland v. King "creates a gaping new exception to the Fourth Amendment.

"As Justice [Antonin] Scalia's dissent convincingly demonstrates, DNA testing of arrestees has little to do with identification and everything to do with solving unresolved crimes," Shapiro's statement continued. "While no one disputes the importance of that interest, the Fourth Amendment has long been understood to mean that the police cannot search for evidence of a crime – and all nine justices agreed that DNA testing is a search – without individualized suspicion. Today's decision eliminates that crucial safeguard."

Back here in Pennsylvania, Pileggi announced that he expects a full Senate vote on S.B. 150 to be scheduled for sometime in the near future.

According to the Associated Press, 28 states, including neighboring New Jersey, and the federal government currently take DNA cheek swabs following a suspect's arrest.

The high court took up the case of Alonzo King, a convicted rapist, after a Maryland court ruled it was illegal for the state to take King's DNA without a judge's approval.

The Supreme Court's decision overturns the state court ruling.