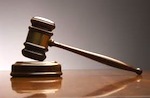 A handful of judges who sat on the now-defunct Philadelphia Traffic Court will go on trial on corruption charges this coming spring, not this winter as originally scheduled, with the federal jurist overseeing the case conceding defense requests for additional time by which to prepare their respective cases.

U.S. District Judge Robert F. Kelly, in a Sept. 3 order, granted a request by defense lawyers to push back the trial to May 19.

The proceedings were originally scheduled to get underway in mid-November.

In his scheduling order, the judge wrote that "the ends of justice are served by granting Defendants' continuance request and outweigh the public's interest in a speedy trial."

The judges are facing a variety of conspiracy, perjury, and wire and mail fraud charges relating to allegations that they fixed traffic tickets for friends, family members and the politically connected.

The defendants, as listed in the court docket, are as follows: Michael Sullivan, Michael Lowry, Robert Mulgrew, Willie Singletary, Thomasine Tynes, Mark Bruno, William Hird, and Henry Alfano.



Pretrial motions were due by April 7, and must be responded to by April 21, and a hearing on the motions will take place on April 28, Kelly wrote.

Philadelphia Traffic Court was abolished by the Pennsylvania General Assembly following the ticket-fixing scandal.

The minor judiciary still has to be formally eliminated via public referendum because it involves amending the state constitution. That must happen during this legislative session.

Traffic Court duties have since been transferred to Philadelphia Municipal Court.