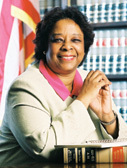 A state judge has overruled preliminary objections by Kindred Hospital

South Philadelphia in a civil case initiated by the daughter of an elderly woman who died as a result of complications relating to a surgery to repair a fractured leg.

Avenia Tyler is suing the medical facility on behalf of her late mother, Ruth McNear, an 84-year-old woman who was admitted for treatment after fracturing her right femur in 2012.

McNear was initially taken to Mercy Fitzgerald Hospital in Philadelphia and later transferred to Kindred, court records show.

She was treated at Kindred from Aug. 31 to Sept. 21, 2012, after which she was taken to St. Francis Country House in Delaware County from Oct. 4 until her death on Oct. 29 of last year.

While under the care of the two skilled nursing facilities, she developed at least three, necrotic advanced pressure sores on her lower right leg and she sustained a second fracture to her right femur, according to the record.

Before going to the nursing homes, McNear had a history of renal disease, dementia, blindness and other health ailments, court documents state.

The woman eventually succumbed to complications from the surgery to repair her fractured femur.

Tyler filed a wrongful death suit at Philadelphia's Common Pleas Court on Aug. 28 of this year against both Kindred Healthcare Operating Inc., which does business as the hospital, and Darby, Pa.-based St. Francis Country House.

Both defendants subsequently filed preliminary objections challenging court jurisdiction, venue and punitive damages.

In her memorandum and order, Philadelphia Common Pleas Court Judge Frederica Massiah-Jackson wrote that McNear was "confused and not competent" when she signed an Admission Agreement and Alternative Dispute Resolution Agreement, meaning there is no valid agreement to arbitrate the matter.

"In the case at bar, documents and hospital chart notations made by medical professionals on September 4, 2012, the same date the ADR Agreement was signed, compel the conclusion that Mrs. McNear's thoughts were disoriented and cloudy at the very time she executed the document," the judge wrote in denying Kindred's preliminary objection.

In a separate issue, Massiah-Jackson determined that St. Francis has been unable to establish that Lynette McNear, another of the elderly woman's daughters, was acting as McNear's agent when the ADR document was signed and thus no valid arbitration agreement exists between the parties.

The judge overruled defense preliminary objections concerning punitive damages without elaboration.

The court docket in the case shows that the plaintiff is being represented by Newtown, Pa. attorney Christopher Culleton.