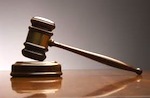 A Philadelphia cardiology practice and doctor are suing over claims a former employee attempted to sully their good names by spreading lies about them.
Regional Cardiology Consultants PC and Dr. Jeffrey S. Weisman filed a lawsuit Feb. 28 in the Philadelphia County District Court against Kimberly Bartol and Lindsay J. O'Neil, citing breach of duty of confidentiality, defamation and interference with contract.
The suit alleges that in May of 2013, defendant Bartol was working for the plaintiffs and it was discovered she had been using their medical equipment for her own profit. According to the brief, the plaintiffs terminated Bartol's contract on Feb. 7 as a result of poor work performance and failing to perform her duties. The suit alleges that soon after Bartol and O'Neil called clients of Regional Cardiology Consultants to spread lies about Dr. Weisman being sued for sexual harassment to sully his good name.
The plaintiffs are seeking damages in excess of $50,000 each, jurisdictional amount for arbitration, interest, attorneys' fees and court costs.
They are being represented in the case by Philadelphia attorney Jack Hubbert, of Law Offices of Jack Hubbert.
Philadelphia County District Court Case No. 140203099.