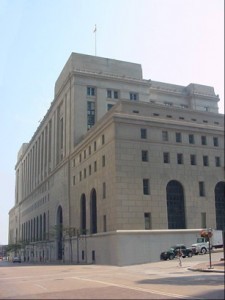 PITTSBURGH - A western Pennsylvania assisted living facility says that an admission agreement signed by a former resident's daughter and his power of attorney requires complaints to be settled in arbitration, according to a lawsuit filed Feb. 4 at the U.S. District Court for the Western District of Pennsylvania.

Attorneys representing Golden Gate National Senior Care and its corporate subsidiaries have requested the federal court to compel Nancy Martz, the executrix of Harry Otto's estate, to enter arbitration proceeding and order the stay of legal proceedings at the Blair County Court of County Pleas.

According to court documents, Martz filed a wrongful death and negligence suit against the senior care company on Jan. 2, claiming that the facility located in Altoona was grossly understaffed and ill-equipped to properly monitor her father's health. She claims that the living center contributed to his death in August 2012.

Martz's complaint says that when Otto was admitted to the Golden Living Center - Hillview facility on June 25, 2012, his weight was approximately 134 pounds.

Four days later, Otto's weight was recorded at 120 pounds, a 14-pound loss. The complaint says that over the next few months, Otto had to make several visits to the emergency rooms for incidents such as a clogged feeding tube, injuries from a fall, inadequate wound care and a MRSA infection.

Finally, on Aug. 11, 2012, Otto was moved to another facility and died eight days later. The amended complaint blames Otto's pain, suffering and death on the alleged negligent care by the Golden Living Center staff and administrators.

The claim accuses the facility of purposefully admitting more patients while choosing not to hire more staff to manage the care as away to increase revenue, specifically by increasing the amount of reimbursements it would receive from the federal government.

"Defendants made a conscious decision to operate and/or manage the Facility so as to maximize profits at the expense of the care required to be provided to their residents, including Harry Otto," the complaint says.

According to Martz's claim, the facility deprived Otto of adequate care, treatment and medicine and caused him to suffer injuries, including multiple falls, skin tears to his left arm and forehead, weight loss, dehydration and multiple infections. She holds the Altoona center and its corporate parents for making deliberate decisions to understaff the facility, placing its residents in danger.

Golden Gate National Senior Care's complaint to federal court argues that regardless of Martz's claim, a signed agreement requires that disputes of care be handled in private arbitration.

The company's claim says Martz signed an agreement prior to Otto's admission that included an optional and enforceable Alternative Dispute Resolution Agreement.

The federal complaint says the nature of the negligence claim falls under the ADR agreement and should be resolved accordingly. The company's attorneys ask the court to order an injunction against Martz preventing her from continuing the legal action at the Blair County Court of Common Pleas.

Golden Gate is represented by Benjamin Sorisio and Patrick Mechas of Burns White LLC in Pittsburgh.