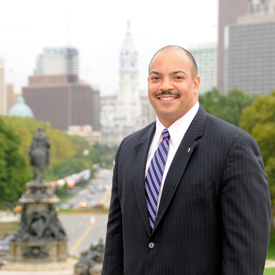 PHILADELPHIA - Two former state representatives and one current face corruption

charges developed through Philadelphia District Attorney Seth Williams' continuation of a bribery probe that was dropped by state Attorney General Kathleen Kane last year.

On Tuesday, Williams charged state Reps. Louise Williams Bishop and Michelle Brownlee and former Rep. Harold James with criminal conspiracy, bribery in official and political matters, conflict of interest and failure to make required disclosures in statement of financial interests for accepting money in exchange for promised political actions.

"The citizens of the Commonwealth of Pennsylvania and the people of Philadelphia deserve nothing but honest and hardworking representation. They don't deserve elected officials who think that it is okay to sell their office," Williams said.

Recordings that were made by a confidential informant (CI) showed Bishop accepting three cash payments totaling $1,500, Brownlee accepting one cash payment of $2,000, and James accepting one payment totaling $750.

Brownlee and James testified before the investigating grand jury and admitted to what they had done. Bishop appeared before the grand jury after being subpoenaed but declined to answer questions about her relationship with the CI and the allegations contained in the attached presentment.

This presentment, which is part of an undercover investigation spearheaded by the Pennsylvania Office of Attorney General between 2010 and 2012, is the third issued by the grand jury.

It previously recommended charges against Thomasine Tynes, the former president judge of the Philadelphia Traffic Court and state Reps. Ronald Waters and Vanessa Lowery Brown.

Tynes has been charged with bribery after allegedly accepting a $2,000 Tiffany bracelet from the CI, who was assisting in the sting operation after he was charged with committing fraud.

The sting was part of a larger investigation started by the OAG in 2010 under Tom Corbett's direction before he left to take office as governor. Prosecutors spent two years acquiring video and audio evidence of city Democrats allegedly accepting money.

When Kane took over the AG role in 2013, she dropped the investigation, saying the evidence was flawed and targeted African American suspects. Williams acquired the case file from Kane and hired two special investigators.