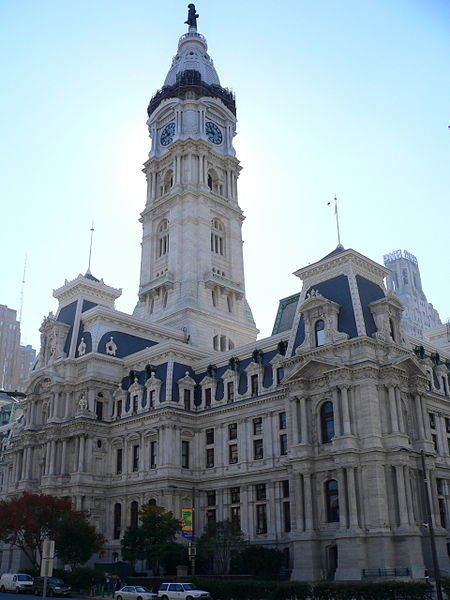 Philadelphia City Hall
PHILADELPHIA – Due to "irreconcilable differences," counsel for a plaintiff has motioned to be relieved of the duty to represent his client in a pending motor vehicle accident action.
In a conference scheduled to take place in Philadelphia City Hall on Tuesday, Plymouth Meeting attorney Gregg R. Durlofsky will request to be excused from being the counsel of record for plaintiff Tremal Fleming, of Philadelphia.
Apart from the aforementioned "irreconcilable differences," Durlofsky cited conflicts of interest between himself and Fleming – but due to the confidentiality privilege associated with attorney-client communications, Durlofsky added the exact nature of the differences between himself and Fleming could not be disclosed in a public setting.
The hearing is in connection with a January lawsuit for a motor vehicle accident that took place in Philadelphia two and a half years ago.
On Dec. 6, 2012, Fleming was a passenger in a vehicle being operated by fellow Philadelphia resident Rodney Maldonado, which came to the intersection of Orthodox & Richmond Streets. At the same time and place, Philadelphia resident Anthony Luniewski was operating his own vehicle, when a collision occurred.
According to Fleming's lawsuit, the "carelessness, negligence and recklessness" of Luniewski in his speeding, not following a traffic signal or looking out for other vehicles, was the primary cause of the rear-end collision with Maldonado's vehicle.
In the accident, Fleming suffered strain and sprain of her cervical spine, lumbar spine, trapezius, right shoulder, right wrist, right hand and a head injury, along with incurring of medical costs and a loss of earning capacity.
The plaintiff is seeking an amount not in excess of $50,000, plus interest, court costs and delay damages.
The defendants are represented by Leonard S. Sabato, in Plymouth Meeting and Wendy Lappin-Barragree, in Wayne.
Philadelphia County Court of Common Pleas case 141102996
From the Pennsylvania Record: Reach Courts Reporter Nicholas Malfitano at nickpennrecord@gmail.com