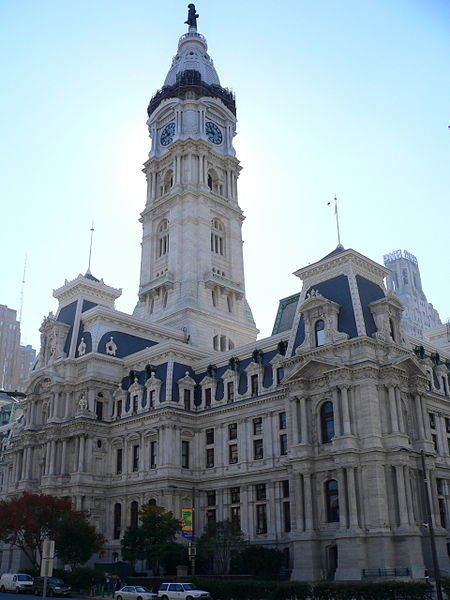 Philadelphia City Hall
PHILADELPHIA – Counsel for a Dunkin' Donuts store claim a negligence action filed against their client should be heard in Bucks County, rather than where the plaintiff filed it in Philadelphia.
Defense attorney Jonathan M. Field argued the negligence lawsuit initiated by Langhorne resident Mark Van Wert, centered on a fall that occurred at a Dunkin' Donuts location in Landsdowne, should therefore be heard in the Bucks County Court of Common Pleas – and not in its Philadelphia counterpart.
A hearing on the matter was scheduled for Wednesday in the Court chambers at Philadelphia City Hall.
Van Wert filed his lawsuit in February, in connection with the aforementioned fall at the store location. Van Wert visited the Landsdowne Dunkin' Donuts and fell on an ice patch outside the front door, which his suit alleges formed as a result of both a downspout and sloped driveway directing water and precipitation to the sidewalk in front of the store.
Though not listing specific injuries he suffered in his litigation, Van Wert asserts his ills are "serious and permanent," in addition to pain and suffering, lost wages, present and future medical expenses, loss of life's pleasures and out-of-pocket expenses.
The plaintiff is seeking a judgment in excess of $50,000, interest, attorney's fees, court costs and delay damages.
The plaintiff is represented by Vincent F. Presto, in Philadelphia.
The defendants are represented by Field of Mintzer Sarowitz Zeris Ledva & Meyers, also in Philadelphia.
Philadelphia County Court of Common Pleas case 150201995
From the Pennsylvania Record: Reach Courts Reporter Nicholas Malfitano at nickpennrecord@gmail.com