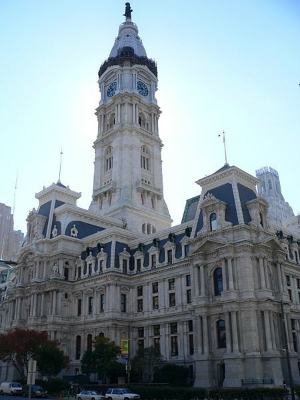 Philadelphia City Hall
PHILADELPHIA – According to court records, an attorney for Boscov's Inc. is seeking to transfer a slip-and-fall negligence case from Philadelphia County to Lancaster County.
Glen D. Kimball, counsel for Boscov's, filed a motion to transfer venue on April 24, believing there was no valid reason for the instant litigation to be tried in the Philadelphia County Court of Common Pleas.
As substantiation for his claims, Kimball explained the subject incident of the litigation occurred in Lancaster County, both of the plaintiffs reside there, a key defense witness also makes their home in that area and plaintiff Kevin Bare received medical care in Lancaster County as well.
A hearing on this matter was scheduled for Wednesday at Court chambers in Philadelphia City Hall.
Bare, of Peach Bottom, was shopping at the Boscov's location in the Park City Mall in Lancaster on May 11, 2013, when he made a purchase and was directed to a customer pick-up area, where his item would be delivered to him.
While waiting for his delivery, Bare walked to a nearby restroom. Upon opening the restroom door, Bare allegedly slipped and fell due to an accumulation of water on the restroom floor. After getting up several minutes later, Bare claims he reported his fall to a Boscov's service representative.
Bare's lawsuit, filed in February, claims his fall was exclusively due to Boscov's negligence in its allowing a leak in the restroom to go unchecked and water to accumulate on its floor.
In the fall, Bare suffered strain and sprain of his cervical and lumbosacral spine, left wrist, left shoulder impingement syndrome with partial thickness tear of distal suprastinous tendon, right knee meniscus tear and other injuries, he says.
Bare's wife, Tracy Bare, also sued for loss of consortium on her husband's behalf.
The plaintiffs are seeking damages in excess of $50,000.
The plaintiffs are represented by Richard T. Kupersmith of Haggerty, Goldberg, Schleifer & Kupersmith, and Anthony J. Nardozzi, all of Philadelphia.
The defendants are represented by Thomas J. Gregory, and by Glen Kimball of O'Connor Kimball, also in Philadelphia.
Philadelphia County Court of Common Pleas case 150201873
From the Pennsylvania Record: Reach Courts Reporter Nicholas Malfitano at nickpennrecord@gmail.com