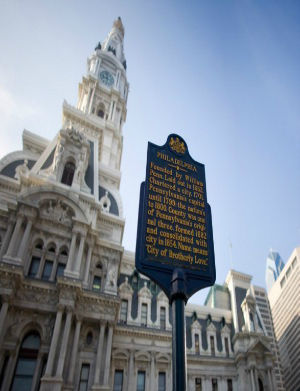 Philadelphia City Hall
PHILADELPHIA – Per an order from a state court judge, the plaintiff in a lawsuit against a Philadelphia-based touring company has won the right to depose the company on a number of subject areas pertinent to her litigation.
Judge Nina Wright Padilla ruled June 18 that Philadelphia resident Melanie Barnett has obtained the legal right to depose Major Tours, Inc. on a series of subjects, including: employees; weekly payroll and disbursements from Jan. 1, 2015 to March 31, 2015, including taxes paid; identity of payroll processor; how wages are determined; pay stubs from Jan. 1, 2015, to March 31, 2015, and the wages earned both before and after the Writ of Execution was served upon Bank of America.
A hearing in which Barnett and her counsel will pose these questions to the defense will be held in Court chambers at Philadelphia City Hall on Wednesday, with sanctions being possible for any parties who fail to comply with Padilla's ruling.
Barnett filed suit against Major Tours, Inc. in May 2004, in connection with a motor vehicle accident that had taken place earlier that year.
When no response came from Major Tours in regards to Barnett's complaint filing, a state court judge entered a default judgment against Major Tours for $14,000 in January 2005.
Eight years later, a Writ of Execution was filed through Barnett's counsel in January 2013, seeking to enforce the judgment through Bank of America, which court records indicate had yet to be paid by the defendants. It also sought to levy these costs upon the property of the touring company.
Attorneys for Major Tours filed a motion of opposition this past January, stating in their claim the plaintiff cannot legally garnish funds from the defendant. Counsel pointed out their belief Major Tours "wasn't served with notice" of the July 2004 arbitration hearing resulting in the $14,000 judgment, which was not approved by a judge until the following January.
In regards to this alleged improper notice, Robert L. Simmons, defense counsel for Major Tours stated in his motion, "The plaintiffs failed to meet the law of civil procedure."
Simmons said the money in question is comprised of owed employee taxes due to the City of Philadelphia, the Pennsylvania Department of Revenue and the Internal Revenue Service, which all have greater liens against Major Tours than the plaintiff and whose financial demands for action take precedence over Barnett's.
Simmons elaborated the first call to enforce the judgment was levied against First Trust Bank and extinguished in March, and the same should happen with this new call for judgment enforcement to Bank of America.
Simmons said to entertain such a proceeding would be "burdening the court with frivolous action" and motioned the Court to set aside the Writ of Execution.
The plaintiff is represented by Donald H. Yablon in Philadelphia.
The defendant is represented by Robert L. Simmons of Abramson & Denenberg, also in Philadelphia.
Philadelphia County Court of Common Pleas case 040502231
From the Pennsylvania Record: Reach Courts Reporter Nicholas Malfitano at nickpennrecord@gmail.com