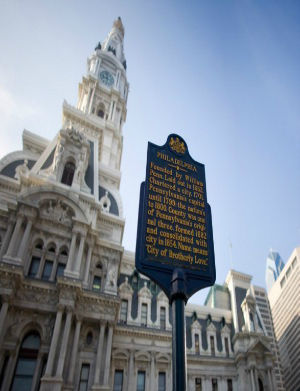 Philadelphia City Hall
PHILADELPHIA – An attorney for the plaintiffs in a negligence action has had their petition for case to be moved from the Philadelphia County Court of Common Pleas for further legal proceedings.
Judge Arnold L. New of the Philadelphia County Court of Common Pleas ruled Tuesday the action filed in April by Philadelphia residents Lawton and Arlene Wilkinson against Marinelli Landscapes and its owner Mark Marinelli of Springfield, would be transferred to the Delaware County Court of Common Pleas.
In addition, New ordered the Wilkinsons and their counsel Adam D. Wilf, would execute the transfer and pay all costs associated with the move within 20 days, or the case would be dismissed.
Counsel for the defense, Jeffrey A. Van Der Kwast, first petitioned the Court for the transfer through a motion of preliminary objections filed on May 6. Van Der Kwast was of the opinion that since both defendant parties were based in Delaware County, the accident at issue took place there and the defendants do not do business in Philadelphia County, Delaware County was a more ideal venue for the action.
The plaintiffs' lawsuit claims on Feb. 4, 2014, Lawton Wilkinson, a manager for Burger King's Upper Darby location, was walking outside in the restaurant's drive-thru area when he slipped and fell on a patch of snow and ice. Wilkinson believes the negligence of the defendants, who were tasked with the responsibility of properly maintaining the property in snowy weather, were negligent in their duty to do so.
Wilkinson suffered a displaced and malleolar tibia and fibula, right ankle fracture, right ankle ORIF (open reduction internal fixation) and internal injuries in the fall. The suit levies claims of negligence against both Marinelli and Marinelli Landscapes from Lawton Wilkinson, and loss of consortium from his wife, Arlene Wilkinson.
The plaintiffs are each seeking in excess of $50,000, plus attorney's fees, court costs, pre- and post-judgment interest, and other relief deemed appropriate by the Court.
The plaintiff is represented by Wilf of Lundy Law, in Philadelphia.
The defendant is represented by Van Der Kwast of Fallon Van Horn, also in Philadelphia.
Philadelphia County Court of Common Pleas case 150400346
From the Pennsylvania Record: Reach Courts Reporter Nicholas Malfitano at nickpennrecord@gmail.com