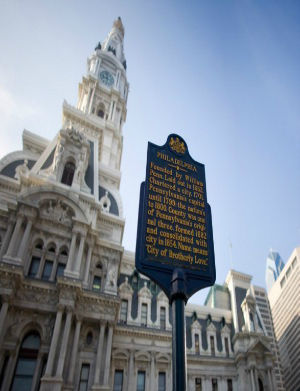 Philadelphia City Hall
PHILADELPHIA – The defendant in a motor vehicle accident negligence action is compelled to fulfill the terms of an insurance settlement which will see five plaintiffs each receive an amount of $6,000, according to a state court judge.
Judge Jacqueline A. Allen of the Philadelphia County Court of Common Pleas ruled Thursday that defendant Un Reak of Darby, would be bound to the terms of a settlement devised in March 2014, in connection with a 2011 motor vehicle accident in Philadelphia.
On July 18, 2011, Reak was driving a vehicle containing plaintiffs Rany Yuy, Hak Meng, Yoy Vannak, Dom Thammavonsa and an unidentified fifth person as passengers, traveling eastbound on I-676, near the exit at Vine Street.
Through allegedly reckless and negligent driving, Reak collided with another vehicle. All of Reak's passengers claimed to suffer severe injuries and impairment of bodily function in the accident, in addition to incurring medical expenses in excess of the permitted recoverable amount under the Pennsylvania Motor Vehicle Financial Responsibility Law.
In March 2014, Reak's insurance carrier tendered its full car accident insurance policy in this case, in the amount of $30,000. The $30,000 would be split equally among all five passengers injured the crash, for a total of $6,000 to each plaintiff. Of the four identified plaintiffs represented by Simon & Simon, only one, Meng, signed the release execution agreement connected to the settlement funds. Simon & Simon claim they cannot locate or communicate with Yuy, Vannak or Thammavonsa at the present time.
Counsel for the plaintiffs petitioned to enforce the settlement on May 12.
The plaintiffs had been seeking individual judgments against the defendant in excess of $50,000, in addition to court costs and other relief deemed appropriate by the Court.
The plaintiff is represented by Marc I. Simon, of Simon & Simon, in Philadelphia.
The defendant is represented by Steven A. Jarvis of Raymond W. Ruthrauff Jr. & Associates, also in Philadelphia.
Philadelphia County Court of Common Pleas case 121000831
From the Pennsylvania Record: Reach Courts Reporter Nicholas Malfitano at nickpennrecord@gmail.com