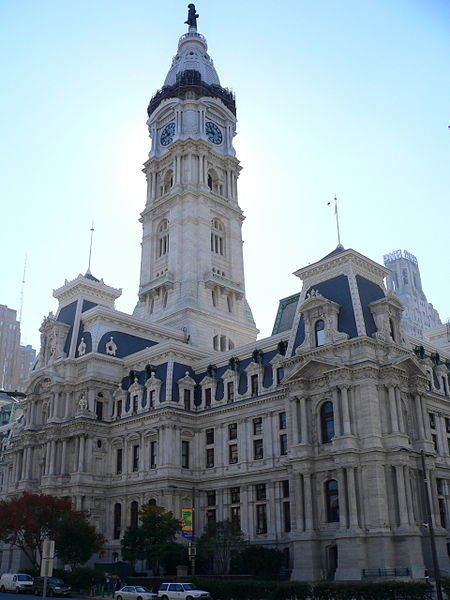 Philadelphia City Hall
PHILADELPHIA – Attorneys for a driver and his employer have argued the negligence case against them was filed improperly as to its venue and are seeking an immediate transfer of future proceedings.
Michelle D. Coburn and Michael W. Jervis of White & Williams in Philadelphia, petitioned the Philadelphia County Court of Common Pleas on May 12. Coburn and Jervis argued the defendants, Jason Dampman of Coal Township and his employer Superior Plus Energy Services of Montoursville, have no business connection to Philadelphia – and they are instead based in Lycoming and Northumberland counties, respectively.
Coburn and Jervis feel one of the courts of common pleas in either of these counties would be a more appropriate setting for the case to be heard.
Defense counsel further indicated Dampman provides primary child care for his four children, and to compel him to travel more than 100 miles to Philadelphia from his hometown to testify in legal proceedings would be "burdensome".
Counsel for plaintiff Rosemary Miller of Muncy filed a counter-motion opposing the transfer on May 28.
A hearing on this matter was scheduled for Court chambers at Philadelphia City Hall on Tuesday.
Miller's lawsuit, filed in January, alleged a motor vehicle accident collision took place in Philadelphia on Sept. 24, 2013. Miller claimed to be driving near the intersection of Market & 15th Streets when Dampman's negligent driving caused his vehicle to collide with hers.
Miller specifically cited Dampman's alleged speeding, lack of allowing a clear distance between vehicles and reckless operation as key factors in causing the accident. The suit levied claims of negligence against Dampman and negligent entrustment against Superior Plus Energy Services.
Miller sustained "serious and permanent personal injuries" in the crash, including disfigurement and aggravation of pre-existing conditions, in addition to suffering financial losses for medical care, in excess of the amount recoverable under the Pennsylvania Motor Vehicle Financial Responsibility Law.
The plaintiff is seeking judgment in excess of $50,000, plus costs and other relief.
The plaintiff is represented by Marc I. Simon, of Simon & Simon, in Philadelphia.
The defendants are represented by Coburn and Jervis of White & Williams, in Philadelphia.
Philadelphia County Court of Common Pleas case 150102508
From the Pennsylvania Record: Reach Courts Reporter Nicholas Malfitano at nickpennrecord@gmail.com