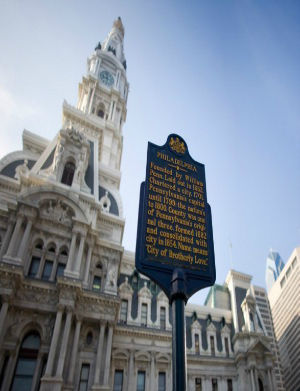 Philadelphia City Hall
PHILADELPHIA – A chief plaintiff attorney in a motor vehicle accident case has motioned to withdraw from the case, citing a lack of communication and cooperation from his clients.
Bruce Friedman, of the Law Offices of Bruce Friedman in Philadelphia, petitioned the Philadelphia County Court of Common Pleas on June 25, requesting to be relieved of the responsibility of representing Yardley residents James Michael Ripka and Kerri Ripka, in their pending negligence action against Benjamin Bui of Richboro.
Friedman explained to the Court that he requested the plaintiffs execute a fee agreement, provide documentation and verifications, but that they did not fulfill that request.
Friedman termed the plaintiffs' alleged failure to comply with his request over a period of months was "economically unjust." To date, he has supposedly received no communication from the plaintiffs.
A hearing in this matter was set for Tuesday in Court chambers at Philadelphia City Hall.
The Ripkas' lawsuit, filed in February, alleges Bui was negligent and responsible for a car crash which severely injured James Ripka more than two years ago.
On Feb. 28, 2013, Ripka was driving southbound on I-95 near Bridge Street in Philadelphia when Bui was allegedly reckless and speeding, and rear-ended Ripka's vehicle. Ripka labeled Bui's speeding and failure to keep a clear distance as the chief reasons for the crash.
Ripka was rendered "sick, sore and lame" in the accident, suffering full-body injuries, most seriously to his neck and back. Further, Ripka endured anxiety, loss of sleep, and a variety of injuries.
The plaintiffs are seeking in excess of $50,000, plus interest, cost, delay damages, and further relief. Kerri Ripka also sues for loss of consortium on her husband's behalf, for the same exact amount of damages.
The defendant is represented by John J. McGrath of Palmer & Barr, in Philadelphia.
Philadelphia County Court of Common Pleas case 150203170
From the Pennsylvania Record: Reach Courts Reporter Nicholas Malfitano at nickpennrecord@gmail.com