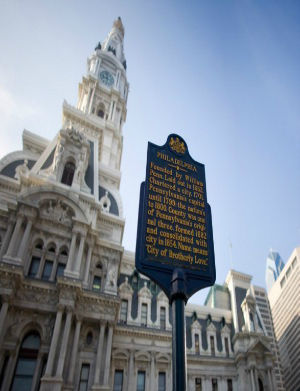 Philadelphia City Hall
PHILADELPHIA – Defense counsel for an apartment complex and related management personnel claimed improper venue as the cause for a seeking a transfer of a negligence case filed against them to the Bucks County Court of Common Pleas.
Naomi Plakins and Sarah M. Baker of Bonner, Kiernan, Trebach & Crociata in Philadelphia filed a motion to this effect on June 8, saying the incident Morrisville resident Kesha Billups-Scott's lawsuit is centered on took place in Bucks County, and no listed defendant is based or does business in Philadelphia County.
Defense counsel labeled the complaint's being filed in Philadelphia as "forum-shopping".
Billups-Scott alleges on Feb. 17, 2014, she slipped and fell on ice-covered steps outside her apartment building, due to the collective negligence of all defendants in not properly maintaining or clearing the property. Billups-Scott suffered serious and permanent personal injuries, impairment of bodily function and other injuries in the fall, she says.
Billups-Scott filed suit in April against Rock Springs Apartments in Morrisville; and Corsa Management, Rock Spring, Inc., Margaret D. Richards, Anthony J. Richards, Carol Richards, Barbara Ann Richards, and Nancy Ricchiuto D'Amico, all of South Orange, N.J.
The plaintiff is seeking in excess of $50,000, plus all costs and other relief.
The plaintiff is represented by Marc I. Simon, of Simon & Simon, in Philadelphia.
The defendants are represented by Plakins and Baker of Bonner, Kiernan, Trebach & Crociata, also in Philadelphia.
Philadelphia County Court of Common Pleas case 150401409
From the Pennsylvania Record: Reach Courts Reporter Nicholas Malfitano at nickpennrecord@gmail.com