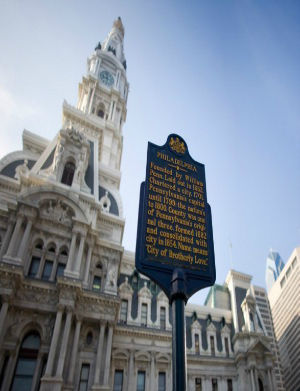 Philadelphia City Hall
PHILADELPHIA – Plaintiff counsel in a motor vehicle accident involving a parked car and an ambulance petitioned the Philadelphia County Court of Common Pleas to be removed as the attorney of record in the case.
Sean E. Quinn of Quinn Law Group in Philadelphia, motioned to the Court on June 15 to withdraw his appearance, citing "divergent and irreconcilable views" between himself and plaintiff Josefina Rojas of Philadelphia over the amount of damages and direction of the case, in her lawsuit against Stat One Ambulance and owner Marvin White, both of Philadelphia.
According to Quinn, Rojas agreed to seek new counsel and a rescheduled arbitration meeting. A hearing in the case was scheduled for Thursday, in Court chambers at Philadelphia City Hall.
Rojas' March 2014 lawsuit alleges on March 27, 2012, she was parked at 6425 Rising Sun Avenue in her 1995 Mitsubishi Galant, when she was struck twice by a vehicle from Stat One Ambulance.
Rojas suffered a concussion, post-concussive syndrome, dental injuries, brachial neuritis/radiculitis, aggravation of prior neck and cervical disc injuries, cervical strain and sprain, aggravation of degenerative disease process in the knees, thoracic spine injuries, and continues to have impairment of bodily function.
The plaintiff is seeking in excess of $50,000 from all defendants jointly and severally, plus interest, delay damages, court costs and other relief.
The defendants are represented by Kristen L. Worley and Thomas G. Oakes II, of Delany & McBride, in Woodbury, N.J. and Philadelphia, respectively.
Philadelphia County Court of Common Pleas case 140302140
From the Pennsylvania Record: Reach Courts Reporter Nicholas Malfitano at nickpennrecord@gmail.com