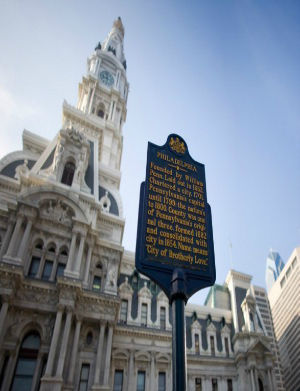 Philadelphia City Hall
PHILADELPHIA – Alleged failure to comply with a subpoena in a negligence and product liability case has counsel for the defendants in the case attempting to enforce that subpoena.
Philip D. Priore, representing defendants Staffmark Holdings of Cincinnati, Ohio and Philadelphia resident Jeremy J. Hess, filed a petition to enforce a subpoena on June 11. This subpoena sought records from Preferred Freezer Services, the employer of plaintiff Michael Walsh of Lumberton, N.J., ones which the defense believes are necessary for them to properly represent their clients.
A hearing in this matter was scheduled for Thursday in Court chambers at Philadelphia City Hall.
The subject of Walsh's lawsuit is an accident which took place on Jan. 2, 2013. On that day, Walsh, who had been working on and off in maintenance for Preferred Freezer Services in Philadelphia, was working in a freezer for approximately 10 to 15 minutes removing wood and sweeping. According to Walsh, a sensor would normally activate when someone else was about to enter the freezer.
On the day in question and as Walsh was working, Hess quickly entered the freezer riding a forklift in reverse. Per Walsh's account, the sensor alert that would ordinarily sound when someone else entered the freezer did not activate in this case, leaving him unaware of Hess's entrance on the forklift.
As a result, Hess's forklift rode over Walsh's foot and ankle, crushing it instantly, and then became stuck on his foot. Walsh further claimed he could not see Hess entering the freezer because the doors were not made of a transparent material permitting this, and should have been.
Walsh suffered physical impairment in the accident due to his broken foot and ankle, and filed a lawsuit in July 2014, levying claims of negligence, product liability and breach of warranties against Jackson, Wis.-based Rytec Corporation, negligence against Hess, plus vicarious liability and the respondeat superior theory against Staffmark Holdings. Another defendant, Recruit Holdings Company of Cincinnati was dismissed from the case in October.
The plaintiff is seeking judgment jointly and severally, in excess of $50,000, plus interest, court costs and attorney's fees, along with other relief and a demand for a jury trial.
The plaintiff is represented by John D. Cirrinicione of Parker McCay, in Mount Laurel, N.J.
The defendants are represented by Priore of McCormick & Priore in Philadelphia and Christine E. Munion of William J. Ferren & Associates in Blue Bell.
Philadelphia County Court of Common Pleas case 140702628
From the Pennsylvania Record: Reach Courts Reporter Nicholas Malfitano at nickpennrecord@gmail.com