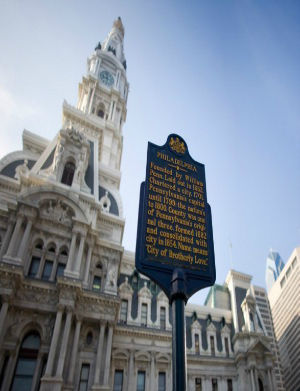 Philadelphia City Hall
PHILADELPHIA – A negligence suit defendant is seeking to vacate a six-figure judgment found against him, allegedly due to not receiving proper service of the complaint.
Through his counsel, Bensalem resident Chang Liu filed a petition in the Philadelphia County Court of Common Pleas on May 6 to open and vacate a $180,000 judgment levied against him on Dec. 2, 2013.
Liu's claims he never received the complaint or was even aware of the judgment until March 12, due to his residing in Bensalem and not in Philadelphia, as the suit purported.
A hearing on this matter had been set for Monday in Court chambers at Philadelphia City Hall.
Philadelphia resident Zulma Medina filed suit against Hong Ma of Philadelphia and White Plains, N.Y., and Liu in September 2013, in connection with a negligence-related accident late the prior year.
On Nov. 3, 2012, Medina was a guest at a Philadelphia residence of the defendants and in a bedroom closet of the apartment when she was injured by falling debris, the complaint says. The debris consisted of a portion of the apartment's ceiling and chimney, which fell onto Medina and knocked her onto the ground, the complaint says.
Medina suffered multiple serious and permanent injuries, especially to one of her knees – and her suit stated charges of negligence against both Ma and Liu for failing to repair such a dangerous condition.
The plaintiff is seeking compensatory damages in excess of arbitration limits, plus attorney's fees, court costs, delay damages, sums, pre- and post-judgment interest and other relief.
The plaintiff is represented by Andrew J. Schneider of Silverman, Trotman & Schneider, plus Drew Salaman of Salaman Henry, both in Philadelphia.
The defendants are represented by George B. Keahey of Venema, Proko & Keahey, plus Jeffrey J. Goldin of the Law Offices of Greg Prosmushkin, also both in Philadelphia.
Philadelphia County Court of Common Pleas case 130901556
From the Pennsylvania Record: Reach Courts Reporter Nicholas Malfitano at nickpennrecord@gmail.com