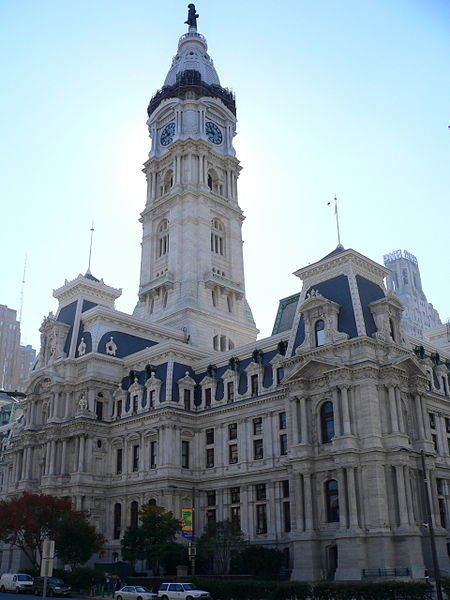 Philadelphia City Hall
PHILADELPHIA – Counsel for a state agency are seeking the Philadelphia County Court of Common Pleas to find a defendant liable for a $4 million-plus judgment in contempt.
Attorneys for the Pennsylvania Infrastructure Investment Authority (PennVEST), a state agency providing "low-interest loans for design, engineering and construction of publicly and privately owned drinking water distribution and treatment facilities, storm water conveyance and wastewater treatment and collection systems," want defendant George M. Diemer of Mount Laurel, N.J. held accountable for his alleged lack of cooperation in fulfilling the over $4 million judgment found against him more than three years ago.
In a petition for contempt of court filed on July 6, counsel for PennVEST claimed Diemer has pled illness as a reason for not attending court-ordered depositions, and failed to produce documents relevant to the case or pay plaintiff attorney fees or other relief.
A hearing in this matter was slated for Thursday at Philadelphia City Hall, in Court chambers.
On Feb. 27, 2007, First Philadelphia Holdings executed a note for $4,574,500.00, and then Diemer executed a Guaranty Agreement on said note. Later, First Philadelphia defaulted on the note, leaving Diemer liable for a total $4,261,861.07 in principal, late charges and accrued interest.
PennVEST is seeking the amount allegedly owed by Diemer, $4,261,861.07, plus interest and penalties. A confession of judgment for that sum was found against Diemer on April 18, 2012, and Diemer's petition to open that judgment was denied on Nov. 19, 2012.
The plaintiff is represented by Shawn W. Weis in Harrisburg, Gaetan J. Alfonso in Philadelphia, Richard J. Parks in Sharon, Jennifer R. Russell in Pittsburgh and Christopher A. Iacono in Philadelphia.
The defendant is represented by Rocco M. Nigro in Media and Mark S. Kancher of the Kancher Law Firm in Haddonfield, N.J.
Philadelphia County Court of Common Pleas case 120401983
From the Pennsylvania Record: Reach Courts Reporter Nicholas Malfitano at nickpennrecord@gmail.com