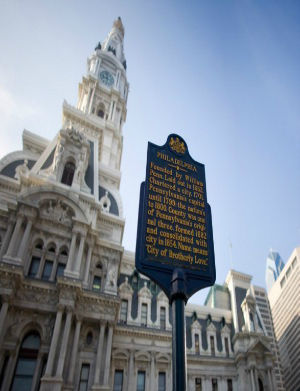 Philadelphia City Hall
PHILADELPHIA – A Philadelphia children's hospital wants to compel arbitration in the case of a plaintiff suing them for race-based discrimination and termination.
Counsel for St. Christopher's Hospital for Children filed the petition on July 28, seeking for the matter to go through Fair Treatment Process arbitration, per an agreement signed by plaintiff Calvin C. Hooker of Upper Chichester, upon his employment commencing with the hospital.
The defense claims such an agreement is enforceable under the Federal Arbitration Act, and is seeking dismissal or a stay of proceedings, and the referral of Hooker's claims to the aforementioned arbitration. Counsel for Hooker vigorously oppose the hospital's petition.
A hearing in this matter was set for Thursday at Philadelphia City Hall, in Court chambers.
Hooker, an African-American, was a Day Shift Supervisor in the Respiratory Care Unit at St. Christopher's Hospital for Children. Originally hired in December 2003, he was promoted to his supervisor role in September 2007. According to the complaint, Hooker regularly "exceeded performance standards and no disciplinary history" during his employment.
Hooker claims he was singled out for criticism due to his race by his supervisor, Kristen Johnson-Moore, the Director of Respiratory Care at the hospital. Johnson-Moore is a Caucasian female.
On Nov. 19, 2012, Hooker provided Johnson-Moore with a written complaint outlining her alleged "biased, oppressive and demeaning treatment" of Hooker. Subsequently, a meeting was held to discuss the complaint between Hooker and Johnson-Moore with Theresa Velykis, a member of the hospital's Human Resources staff. Velykis is also a Caucasian female.
The following month, a position became vacant at the hospital for the Clinical Manager of the Respiratory Care Unit. The position would have served as a promotion for Hooker, who based on his five years of supervisory experience at that time, claimed he was the most experienced candidate who applied for the role.
However, Hooker claimed that "a less-qualified" external candidate named Gilbert Soto was chosen for the Clinical Manager position, despite Hooker's experience and positive track record of employment. Hooker then filed a grievance with the hospital's Human Resources Department, but claimed no corrective action was taken. In fact, Hooker alleges hospital officials began telling his subordinates to report to Soto, instead of Hooker.
The day prior to a scheduled grievance hearing, Hooker asserts he was given a written disciplinary warning – the only disciplinary action ever taken against him by the hospital at that point. Hooker was fired on March 15, 2013, and later exhausted his claims for relief through the Pennsylvania Human Relations Commission (PHRC) and Equal Employment Opportunity Commission (EEOC).
The plaintiff is seeking economic and non-economic damages, costs, attorney's fees and equitable relief.
The plaintiff is represented by Thomas More Holland of the Law Offices of Thomas More Holland, in Philadelphia.
The defendants are represented by Michael D. Jones of Reed Smith, also in Philadelphia.
Philadelphia County Court of Common Pleas case 150500405
From the Pennsylvania Record: Reach Courts Reporter Nicholas Malfitano at nickpennrecord@gmail.com