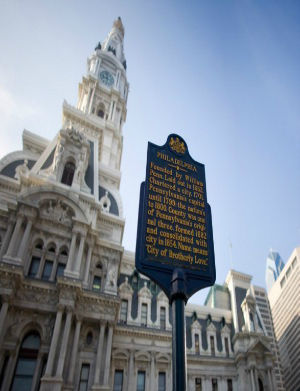 Philadelphia City Hall
PHILADELPHIA – Plaintiff counsel in a motor vehicle accident lawsuit has been allowed to withdraw his representation of his client due to "irreconcilable differences."
On Thursday, Benson I. Goldberger's motion to withdraw, filed on Aug. 10, was approved by the Philadelphia County Court of Common Pleas. Goldberger cited "irreconcilable differences" between himself and his client, Iris Carcana, as the motivation for his withdrawal petition.
On Sept. 11, 2012, Carcana was driving a 1997 GMC Safari and stopped at a red light in the left travel lane on West Susquehanna Avenue, near its intersection with Germantown Avenue in Philadelphia.
When the light turned green for westbound traffic on West Susquehanna Avenue, defendant Taisha Figueroa made a left-hand turn onto the southbound lane of Germantown Avenue, striking Carcana's vehicle on the front right passenger side – where Carcana's passenger and fellow plaintiff Sandra Negron was sitting.
Negron allegedly suffered C4-C7 vertebrae bulging disc/disc herniation with cervical radiculitis, bilateral shoulder tendonitis, bilateral shoulder impingement syndrome, bilateral hand strain tendonitis, cervical radiculopathy, loss of earnings, loss of earnings capacity and life enjoyment.
Carcana allegedly suffered bilateral cervical radiculopathy, right lumbar radiculopathy, bilateral knee contusions, feet tendonitis and status post contusions.
The plaintiffs are each seeking a sum not in excess of $50,000, plus interest and costs. In addition to charges of negligence against Figueroa, Negron and Carcana also sued defendant passenger Diane Pagan for negligent entrustment, in allowing Figueroa to operate her vehicle.
The plaintiffs are represented by Kristin N. Spinale in Philadelphia.
The defendants are represented by K. Reed Haywood and Daniel F. Donnelly, all in Philadelphia.
Philadelphia County Court of Common Pleas case 140702415
From the Pennsylvania Record: Reach Courts Reporter Nicholas Malfitano at nickpennrecord@gmail.com