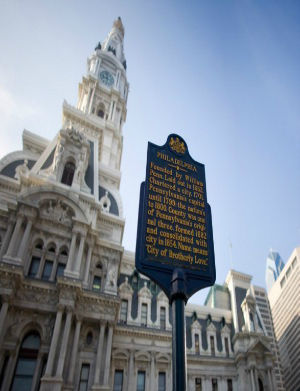 Philadelphia City Hall
PHILADELPHIA – The attorney representing a client suing the Southeastern Pennsylvania Transportation Authority (SEPTA) for driver negligence has opted to withdraw his representation.
Andrew C. Smialowicz of Clearfield & Kofksy motioned to the Philadelphia County Court of Common Pleas on Aug. 10, in order to be relieved of the duty of representing his client, Philadelphia resident Renaldo Scott.
In his petition, Smialowicz stated he had "encountered a conflict" with Scott that couldn't be detailed in his motion, but could be addressed at the Court.
A hearing in this matter was set for Thursday at Philadelphia City Hall, in Court chambers.
On Sept. 14, 2013, Scott was driving at the intersection of Frankford Avenue and Solly Street in Philadelphia, when an unidentified SEPTA employee allegedly operated the Route 66 bus in a negligent fashion and caused a collision with Scott's vehicle.
In the crash, Scott suffered disc injuries, strain and sprain of his entire spine, lower left extremity radiculitis, bilateral trapezius myofascitis, and incurred medical costs in excess of $1,500, he says.
Scott is seeking third-party liability and first-party benefits in his lawsuit.
The plaintiff is seeking damages not in excess of arbitration limits, plus interest and costs, with respect to the third-party liability in this case, in addition to $5,000 in medical expenses, court costs and attorney's fees, with respect to the first-party benefits.
The defendant is represented by Raymond J. Porreca Jr. of SEPTA's Legal Department, also in Philadelphia.
Philadelphia County Court of Common Pleas case 150202456
From the Pennsylvania Record: Reach Courts Reporter Nicholas Malfitano at nickpennrecord@gmail.com