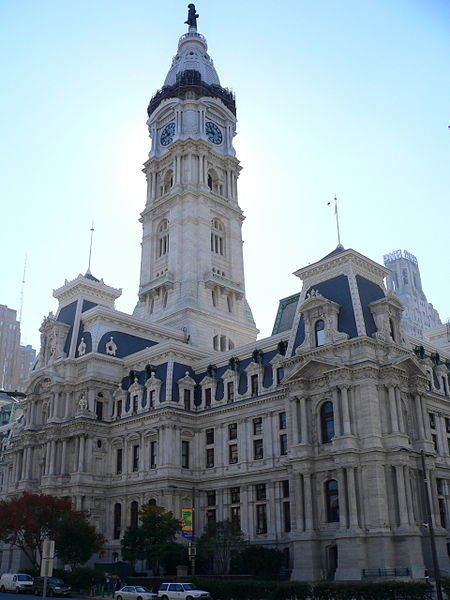 Philadelphia City Hall
PHILADELPHIA – A 14 year-old contract goods enforcement lawsuits has been reinstated with a defendant's petition to proceed in lieu of a prior default judgment levied against her in 2001.
First Select, Inc. of Pleasanton, Calif., first filed suit against Philadelphia resident Dana L. Douglas in June 2001. When no response to the suit was filed by July 19, 2001, Valerie S. Rosenbluth Angst, the attorney of record for First Select at the time, filed a praecipe for entry of default judgment. That default judgment was in the amount of $1,876.24.
Then, Frederic I. Weinberg, a Conshohocken-based attorney, filed a motion to enter his appearance on May 28, followed by a writ of execution and summons upon American Heritage Federal Credit Union. This writ contained interrogatories for American Heritage, as Douglas's garnishee, to complete – along with noting that combined with accumulated interest over 14 years and a sheriff's fee, the default judgment amount had been raised to $3,670.75.
On Aug. 27, Douglas filed a trio of motions in response to the reinstated case.
The first was for Douglas to proceed in forma pauperis, or in such a manner for a litigant who is without the financial means to fully participate in a legal action.
Douglas cited her "financial condition" as the rationale behind the filing of the in forma pauperis motion. Court records indicated Douglas was employed in the purchasing department of the Southeastern Pennsylvania Transportation Authority (SEPTA), earning a salary of approximately $3,000 per month.
Secondly, Douglas filed a motion to stay the writ of execution launched by Weinberg on July 30. Douglas claimed the address listed in the original court documents in York was never hers, and she only learned of the default judgment when a bank levy was placed on her account.
Douglas explained the records department at the City Hall courthouse provided her with the default judgment documentation she did not receive.
Judge Linda Carpenter denied Douglas's motion to stay the writ of execution on Aug. 28, ordering the matter would proceed as normal through the court system.
Finally, Douglas petitioned for a statutory exemption in the amount of $300.
A hearing in these matters was set for Thursday at Philadelphia City Hall, in Court chambers.
The plaintiff is represented by Weinberg of the Law Offices of Frederic I. Weinberg, in Conshohocken.
The defendant has no legal representation, per court records.
Philadelphia County Court of Common Pleas case 010600414
From the Pennsylvania Record: Reach Courts Reporter Nicholas Malfitano at nickpennrecord@gmail.com