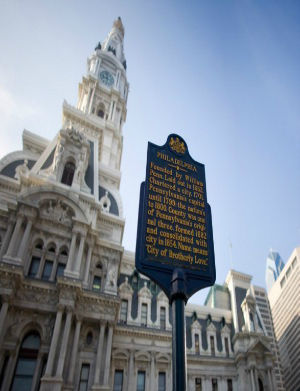 Philadelphia City Hall
PHILADELPHIA – Counsel of record for a city car crash plaintiff reached differences with his client that he says necessitate his withdrawal from the case.
Kenneth S. Saffren, of Saffren & Weinberg in Jenkintown, motioned to the Philadelphia County Court of Common Pleas on Aug. 3 to withdraw from representing the legal interests of his client, Philadelphia resident Selena Murrell.
As to the reasons for his withdrawal, Saffren pointed to "irreconcilable differences" that had arisen between himself and Murrell, over the "course and scope of the litigation" and the plaintiff "not listening to his advice."
Further, Saffren explained Murrell had not responded to his numerous attempts to contact her. Saffren's motion also asked for a postponement of a recent arbitration hearing scheduled for Aug. 31. That request had recently been granted by the Court, re-scheduling the arbitration hearing for Nov. 30.
A hearing in this matter was set for Tuesday at Philadelphia City Hall, in Court chambers.
In her September 2014 lawsuit, Murrell alleged on Sept. 5, 2012, she was a passenger in a vehicle owned, operated and controlled by the defendants, Philadelphia residents Annette Harris and Khalid Ali, Jr.
As the defendants' vehicle was being driven near the intersection of 25th and Fitzwater Streets in Philadelphia, Murrell claimed speeding, out-of-control and negligent driving on the part of the defendants caused the vehicle to crash into a support pillar underneath the 25th Street Bridge.
Murrell suffered permanent injuries to her back, head, neck, knee and ankle in the accident, in addition to a loss of earnings power and the incurring of large medical bills.
The plaintiff is seeking a judgment not in excess of $50,000, plus interest and costs.
The defendants are represented by Maria I. Francesco, of the Law Offices of Sue Ann Eckel in Philadelphia.
Philadelphia County Court of Common Pleas case 140900373
From the Pennsylvania Record: Reach Courts Reporter Nicholas Malfitano at nickpennrecord@gmail.com