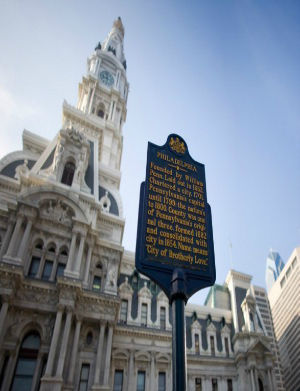 Philadelphia City Hall
PHILADELPHIA – A defense attorney who accidentally named a Philadelphia woman as his client in a pending negligence action, has petitioned to withdraw from representing her.
George B. Keahey motioned to the Philadelphia County Court of Common Pleas to withdraw his appearance on July 31 for defendant Sylvia Crowdy. Keahey explained he inadvertently checked off Crowdy's name on the Court's electronic filing form when first entering his appearance.
If not allowed to withdraw his appearance for Crowdy, Keahey asserted he will incur a "conflicting professional hardship" by representing a party he both didn't know and didn't have permission to defend – which he claimed was a direct violation of the Rules of Professional Responsibility.
A hearing in this matter was set for Wednesday at Philadelphia City Hall, in Court chambers.
Ollison's lawsuit, filed in June, is connection with a slip-and-fall accident he allegedly sustained two years prior. The suit alleges negligence on the part of Jehu Crowdy, Sylvia Crowdy, Jehu Crowdy Jr., Je'syl Crowdy, Triumph Real Estate Investments and the City of Philadelphia.
Ollison claims on June 4, 2013, he fell on an uneven and dilapidated portion of sidewalk located on the 2800 block of Cecil B. Moore Avenue in Philadelphia – and claimed the collective negligence of the defendants in not inspecting, maintaining or repairing the sidewalk was the cause of his fall.
In addition to injuries, Ollison also incurred lost wages and medical bills totaling nearly $50,000, he says.
The plaintiff is seeking individually, jointly and severally, in excess of $50,000, plus other relief from the defendants in this case.
The plaintiff is represented by Thomas Bruno II of Abramson & Denenberg, in Philadelphia.
The defendants are represented by Francis J. Deasey and Athena O. Pappas, of Deasey Mahoney & Valentini, the City of Philadelphia Law Department and George B. Keahey of Venema, Proko, Keahey & Dalvet, also all in Philadelphia.
Philadelphia County Court of Common Pleas case 150600266
From the Pennsylvania Record: Reach Courts Reporter Nicholas Malfitano at nickpennrecord@gmail.com