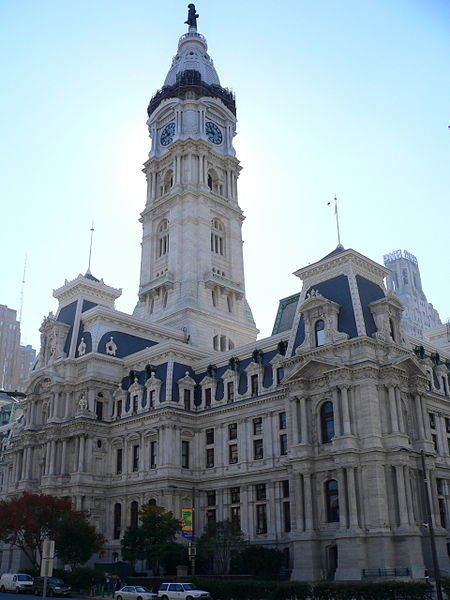 Philadelphia City Hall
PHILADELPHIA – The counsel of record for a plaintiff in a dog bite negligence case has stated that they cannot continue to represent their client.
Andrew C. Smialowicz of Clearfield & Kofsky in Philadelphia, filed a motion with the Philadelphia County Court of Common Pleas on Aug. 10, stating he encountered a conflict with his client, Judy Alleyne of Philadelphia – one that he could not publicly disclose in his withdrawal petition.
Smialowicz added he would be able to address the reasons for his withdrawal with the Court only, but emphasized that he cannot continue to represent Alleyne in this litigation.
A hearing in this matter was set for Thursday at Philadelphia City Hall, in Court chambers.
The January suit filed by Alleyne against Patrick Walsh of Newtown, is in connection with the defendant's dog, who allegedly attacked Alleyne in June 2013.
According to the lawsuit, on June 1, 2013, Alleyne was bitten by Walsh's pit bull dog at her residence in Philadelphia. Alleyne alleged the defendant's unleashed and unsecured dog left Walsh's property two houses away and wandered over to Alleyne's property, where it bit her on the left leg.
Alleyne's lawsuit alleged Walsh was negligent in "possessing a dog of a known vicious character, failure to restrain the dog, failure to supervise, and failure to protect the plaintiff from attack."
Alleyne suffered laceration of the left posterior calf, puncture wounds to the left calf resulting in permanent scarring and discoloration, and other injuries.
The plaintiff is seeking a sum not in excess of arbitration limits, plus interest and costs in this case.
The defendant is represented by Gregory F. Mondjack Sr., in Philadelphia
Philadelphia County Court of Common Pleas case 150101735
From the Pennsylvania Record: Reach Courts Reporter Nicholas Malfitano at nickpennrecord@gmail.com