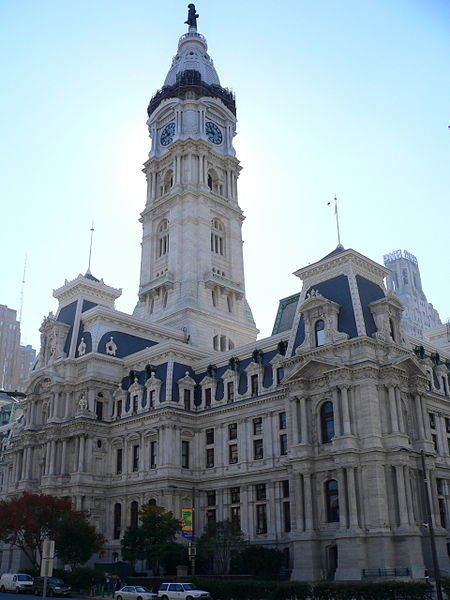 Philadelphia City Hall
PHILADELPHIA – A defendant facing the levying of an out-of-state judgment in excess of $6,000 has filed a motion to set aside of a writ of execution seeking to enforce that judgment.
Defendant Joseph Casey of Hatboro filed the motion in the Philadelphia County Court of Common Pleas on Sept. 3.
According to Casey, the Writ of Execution must be stayed and set aside because "the plaintiff has no legal right to attach or garnish property other than that belonging to the judgment debtor in this matter."
A hearing in this matter was scheduled for Tuesday at City Hall, in Court chambers.
Originally, a default judgment had been entered against Casey on July 23, 2008 and in favor of Greenville, S.C.-based Atlantic Credit & Financing and HSBC. Seven years later, a foreign judgment was entered against Casey on July 21 for monetary debt damages in the amount of $5,940.85. This amount was comprised of the judgment itself of $5,801.09 and additional costs of $139.76.
On June 30, the Department of Defense Manpower Center clarified Casey, at one time a member of the Armed Forces, was not found to be on active duty status as of that date.
On Aug. 21, Weinberg filed a Writ of Execution against Casey and garnishee Philadelphia Federal Credit Union. The amount listed in the writ was the previous total of $5,940.85 plus $23.44 in interest and $216.00 in Sheriff's fees, for a revised total of $6,180.29. However, Weinberg dissolved Philadelphia Federal Credit Union's attachment to the writ this week.
The plaintiff is represented by Frederic I. Weinberg of the Law Offices of Frederic I. Weinberg & Associates, in Conshohocken.
The defendant has no legal representation.
Philadelphia County Court of Common Pleas case 150702200
From the Pennsylvania Record: Reach Courts Reporter Nicholas Malfitano at nickpennrecord@gmail.com