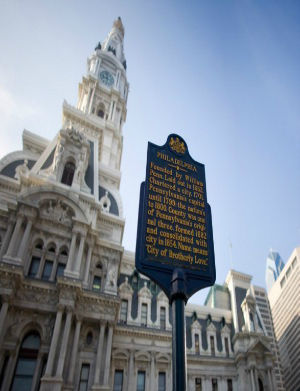 Philadelphia City Hall
PHILADELPHIA – A negligence lawsuit against a gymnastics school could be headed to Bucks County, if a defense motion in the case is successful.
On June 24, Henri P. Marcial filed a motion for preliminary objections, seeking the case be transferred to Bucks County in order to fulfill the conditions of a proper venue. Marcial asserted since the accident in question occurred there and the defendants do not conduct business in Philadelphia County, the Bucks County Court of Common Pleas would be the only appropriate venue for the case to be heard.
A hearing in this matter was set for Wednesday at Philadelphia City Hall, in Court chambers.
On Feb. 7, 2014, a dangerous ice condition allegedly existed in the Bensalem School of Gymnastics' parking lot, according to the lawsuit.
Philadelphia resident Lorraine McGonigal claimed she fell due to this icy condition and the related negligence involved allegedly on the part of the defendants: In addition to the gymnastics school, Scotland Rock Ltd. of Bensalem and trustees Carolyn Kraftsow, Eric Kraftsow and Randy Kraftsow Lipkin were named in the suit.
McGonigal allegedly suffered back and ankle injuries, plus shock to her nerves and nervous system. The plaintiff is seeking judgment, jointly and severally, in excess of arbitration limits in this case.
The plaintiff is represented by Jeffrey M. Rosenbaum and Jeffrey P. Curry of Rosenabaum & Associates, in Philadelphia.
The defendants are represented by Henri P. Marcial, Ann M. Mullen and William D. Longo, plus Richard E. Stabinski and Sean L. Phelan of Weber Gallagher, all in Philadelphia.
Philadelphia County Court of Common Pleas case 150502753
From the Pennsylvania Record: Reach Courts Reporter Nicholas Malfitano at nickpennrecord@gmail.com