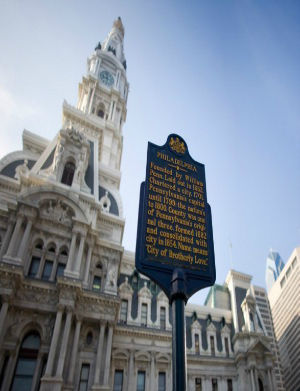 Philadelphia City Hall
PHILADELPHIA – Counsel for the plaintiff in a motor vehicle accident case is seeking confirmed delivery of a $10,000 settlement.
On Aug. 12, attorney Christopher R. Durso filed a motion to enforce settlement and distribute proceeds on behalf of his client, Upper Darby resident Singh Gurmail, against the defendants, fellow Upper Darby residents Lucia Marca and Jose Gaguancela.
Per Durso's filing, the defendants were directed to forward a check for $10,000 within 20 days of the Aug. 12 motion, at which time Durso would deposit those funds into an escrow account for distribution as follows:
- Rosenbaum & Associates: $3,212.03 (fees);
- Rosenbaum & Associates: $1,175.94 (costs);
- Upper Darby Pain Management: $2,000.00 (outstanding medical bill);
- Advanced Diagnostic MRI $400.00 (outstanding medical bill); and
- Singh Gurmail: $3,212.03 (damages).
The settlement has not been paid at this time, and a hearing in this matter was set for Tuesday at Philadelphia City Hall, in court chambers.
On Feb. 28, 2011, Marca was driving her vehicle through the intersection of Haverford and Landsdowne Avenues in Philadelphia when her alleged negligent driving caused a collision with Gurmail's vehicle. Gurmail claims Marca was speeding, failing to keep a proper lookout for traffic and making an illegal left turn at the time of the crash. According to the suit, both Marca and Gurmail were driving in the course of their respective employment duties.
In the accident, Gurmail suffered neck, back and shoulder injuries, severe shock to his nerves and nervous system, plus other injuries and aggravation of pre-existing conditions.
The plaintiff is seeking judgment not in excess of arbitration limits.
The plaintiff is represented by Jeffrey M. Rosenbaum and Christopher R. Durso of Rosenbaum & Associates in Philadelphia.
The defendants are represented by Steven P. Cholden of Reilly Janiczek & McDevitt and Joanna F. Wusinich, formerly of that same firm, also in Philadelphia.
Philadelphia County Court of Common Pleas case 121202150
From the Pennsylvania Record: Reach Courts Reporter Nicholas Malfitano at nickpennrecord@gmail.com.