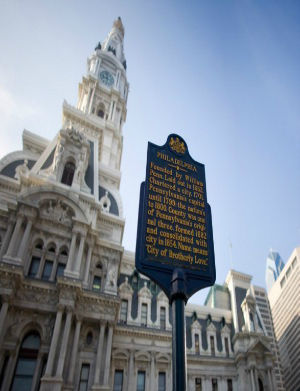 Philadelphia City Hall
PHILADELPHIA – Rumor Nightclub and its owner Mark Marek are seeking to strike a $185,000 default judgment levied against them in the case of a Philadelphia police officer injured while breaking up a fight at the popular city nightspot nearly four years ago.
Per a motion to strike default judgment filed by defense counsel Peter J. McNamara on Sept. 3, defendants Rumor, Marek, Leverage RH and Leverage Hospitality Group assert the complaint filed by Joseph W. Stevenson and his wife Kristin A. Stevenson is "legally insufficient."
After service of the complaint in March 2014, plaintiff counsel Brian P. McVan called for an assessment of damages hearing the following June, when no response from the defendants regarding the complaint was received. One year later, in June 2015, the Court assessed damages against the defendants in the amount of $185,000.
However, through their counsel, the defendants argue Pennsylvania Rules of Civil Procedure 1018.1 and 1037 were violated during service of the complaint – specifically, that a "Notice to Defend" was not included with the complaint, per state law. Therefore, the defendants assert they had no duty to respond to the suit.
Furthermore, the defendants say that Rule Notices in the suit were sent to 1500 Sansom Street, a multi-story building, while the original complaint was sent directly to the fourth floor of that same address – and that this constituted improper procedure.
A hearing in this matter was set for Tuesday at Philadelphia City Hall, in Court chambers.
On Dec. 11, 2011, Stevenson, while serving as a Philadelphia police officer and patrolling outside the Rumor nightclub, assisted in breaking up a fight between two male individuals outside the club. At that time, it is alleged Bowers attacked Stevenson from behind and dragged him on the ground, severely injuring him. Even as Bowers was being placed under arrest, the suit states he continued to assault Stevenson.
Stevenson says he suffered disc protrusions at his T5-T6 and T9-T10 vertebrae, a bulging disc at his L4-L5 vertebrae, contusions, lacerations and abrasions, in addition to secondary psychological sequelae, post-traumatic anxiety, depression and a loss of libido.
The suit claims the defendants were negligent in overserving Bowers alcoholic beverages and violating the Dram Shop law, not having the proper security and supervision on hand at Rumor and in not intervening in the altercation which led to Stevenson's injuries.
The plaintiffs are each seeking a sum in excess of $50,000, plus interest and costs, including punitive damages. Kristin A. Stevenson sues for loss of consortium in this action.
The plaintiffs are represented by Brian P. McVan of McVan & Weidenburner, in Philadelphia.
The defendants are represented by Ben Simmons of Defino Law Associates and Peter J. McNamara, both in Philadelphia
Philadelphia County Court of Common Pleas case 131201435
From the Pennsylvania Record: Reach Courts Reporter Nicholas Malfitano at nickpennrecord@gmail.com