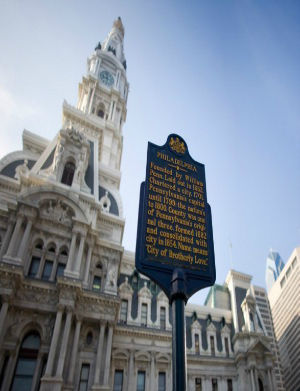 Philadelphia City Hall
PHILADELPHIA – The occupant of a city residence transacted in a Sheriff's Office sale won a motion to open judgment and stay possession of the property, as the future ownership of the location remains to be decided.
On Feb. 12, 2014, a Sheriff's sale was conducted on a property on Catherine Street due to failure to maintain a regular schedule of tax payments. Therefore, the Philadelphia County Court of Common Pleas entered a foreclosure action and judgment, which led to the Sheriff's sale and proceedings.
The plaintiff, Chai 18, Inc. of Huntingdon Valley, took possession of the property at that time, which was acknowledged through written court records on Oct. 14, 2014.
On Sept. 29, defendant Jackie Brown (Walker) filed an emergency motion and claimed a long-term illness prevented her from paying her taxes at one time, but that she has since recovered and is actively seeking employment. Brown's motion explained she had lived in the community for more than 12 years and asked for additional time to secure work, in order to pay the back taxes.
The following day, Sept. 30, Philadelphia Common Pleas Court Judge Nina Wright Padilla stayed Brown's eviction.
A hearing in this matter was set for last Wednesday at Philadelphia City Hall, in Court chambers. The hearing would present an opportunity for the plaintiff, in its view, to show why the granting of Brown's motion should be overturned.
Plaintiff counsel asserts rent had been fixed at a rate of $1,000 per month, and that the defendant's untimely tax payments leave her with "no valid legal right" to the premises. Plaintiff counsel further stated their client obtained the property at the sale for $55,000 and "claims the legal right to possession, to the exclusion of the defendant."
The plaintiff is represented by Leonard A. Mancini in East Norriton.
The defendant has no legal representation, per court records.
Philadelphia County Court of Common Pleas case 141202001
From the Pennsylvania Record: Reach Courts Reporter Nicholas Malfitano at nickpennrecord@gmail.com