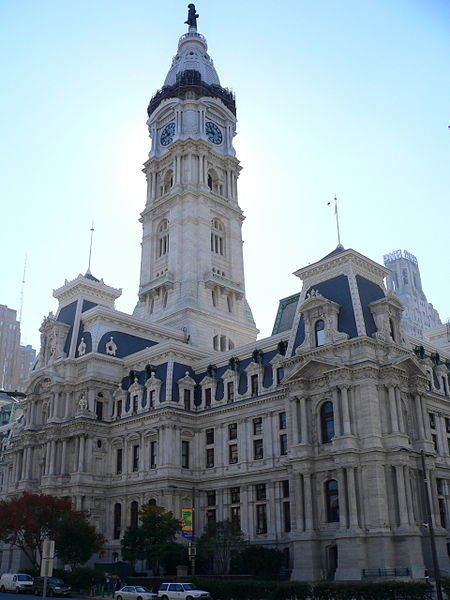 Philadelphia City Hall
PHILADELPHIA – A Philadelphia funeral home seeks to intervene from a writ of execution placed on its bank account.
On Sept. 11, Michael L. Nix filed a pair of motions to intervene on behalf of his client, Nix Funeral Home, explaining the defendant and intervener are two separate corporations and they should not be the target of writs of executions on their finances.
Nix stated the plaintiffs placed a writ of execution against the defendant's account with Citizens Bank, which belongs to both Nix Funeral Home and Nix Funeral Home East – which Nix said was improperly named as a defendant in this action, along with Nix Funeral Home North. Nix's motion seeks the setting aside of these writs of execution.
A hearing in this matter was set for last Thursday at Philadelphia City Hall, in Court chambers.
LEAF Funding and Keystone Digital Imaging (KDI) entered into a Dealer Program Agreement on Sept. 14, 2009, which was assigned to LEAF Capital on Jan. 4, 2011.
Likewise, Nix Funeral Home entered into an Equipment Lease with KDI, on Sept. 25, 2014, which was assigned to LEAF Capital on Oct. 14, 2014. Through the agreement, Nix agreed to lease a copier from KDI for five years, at a rate of $389 per month.
However, the suit states Nix has been in default of those payments since Jan. 15. According to the litigation the total cost breakdown proceeds as follows:
- Past Due Rent: $1,921.19
- Remaining Balance: $17,780.34
- Residual Value of Equipment: $2,652.27
- Late Charges: $291.27
- Taxes on Past Due Rent: $155
- Miscellaneous Fees: $315
- Total: $23,115.67
The plaintiff is seeking the sum of $23,115.67, plus attorney's fees, costs of suit, interest and other relief as to the breach of contract charge; an equal amount in damages as to the unjust enrichment charge; and yet another equal amount in damages as to the replevin charge, for repossessing a copier valued $18,786.93.
The plaintiff is represented by Matthew R. Shindell of Goldberg Segalla, in Philadelphia.
The defendant is represented by Michael L. Nix and Julie M. Murphy, also both in Philadelphia.
Philadelphia County Court of Common Pleas case 150600923
From the Pennsylvania Record: Reach Courts Reporter Nicholas Malfitano at nickpennrecord@gmail.com