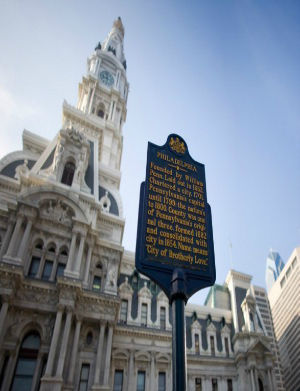 Philadelphia City Hall
PHILADELPHIA – Plaintiffs in a contract dispute matter are seeking to prevent the transfer of equipment and financial records they need to prove their case through a preliminary injunction and accompanying court order.
On behalf of clients Samy and Rasha Mansour of Philadelphia, attorney Michael A. Caudo filed a motion for a preliminary injunction on Sept. 22 to stop the moving of business equipment by Inter-Global Printing and the preservation of all of the company's financial records.
A hearing in this matter was set for this past Thursday in Court chambers at Philadelphia City Hall.
On March 31, 2014, Inter-Global borrowed $70,000 from Samy to finance the purchase of a sheeter machine Haosheng Printing Machinery in China. On April 10, 2014, Samy entered into a loan agreement with Inter-Global and fellow defendants Alketa and Thanas Verdhi, whereby the defendants would make weekly payments of $500 over a 146-week period.
The suit says the defendants promised to issue Samy sufficient shares of Inter-Global to vest 15 percent ownership of all issued and outstanding stock, employ him as a salesman for 12 years and be responsible for the unpaid balance of that salary if the agreement was terminated prior to the 12-year mark, plus security and interest in all of their equipment.
Further, the plaintiffs assert the plaintiffs entered into a shareholders agreement with the defendants on May 6, 2014, in which Samy and Mansour owned 100 shares of Inter-Global and the Verdhis owned the remaining 100. Allegedly, it was agreed that all four shareholders would manage the day-to-day business operation of the company.
In early 2015, the plaintiffs say they detected "irregularities" in Thanas Verdhi's business management, such as improper payments and corporate funds being used to cover personal expenses. Additionally, the plaintiffs objected to the defendants' alleged contracting with Sandmeyer Properties for obtaining commercial rental space, without their consent as fellow shareholders.
When the plaintiffs brought these concerns forward, the lawsuit says all payments to Samy ceased and he was immediately terminated. The plaintiffs accuse Thanas Verdhi of barring Samy from the corporation and engaging in "oppressive conduct," which has harmed both the business and shareholders.
The plaintiffs filed a multi-charge lawsuit against the defendants, levying claims of breach of contract against Thanas Verdhi; breach of contract against Inter-Global and Thanas Verdhi; breach of fiduciary duties and conversion against the Verdhis; accounting against Inter-Global; and replevin against Inter-Global and Thanas Verdhi.
For those charges, the plaintiffs seek the accompanying amounts in damages:
-Breach of contract (Thanas Verdhi): $41,500 plus costs and interest;
-Breach of contract (Inter-Global & Thanas Verdhi): Remainder of balance from 12-year employment contract and a repurchase of Samy's interest in the company at fair market value;
-Breach of fiduciary duties (Alketa & Thanas Verdhi): Compensatory and punitive damages, costs and attorney's fees;
-Conversion (Alketa & Thanas Verdhi): Compensatory and punitive damages, costs and attorney's fees;
-Accounting (Inter-Global): All accounting, corporate records, books and other documents; and
-Replevin (Inter-Global & Thanas Verdhi): Repossession of printing presses, computers and machinery, including the sheeter machine as the subject of the $70,000 loan.
The plaintiffs say they have reason to believe some of all of it was removed from the 500 East Luzerne Street location, to another location.
The defendants are represented by Leonidas N. Koletas in Conshohocken.
Philadelphia County Court of Common Pleas case 150601495
From the Pennsylvania Record: Reach Courts Reporter Nicholas Malfitano at nickpennrecord@gmail.com