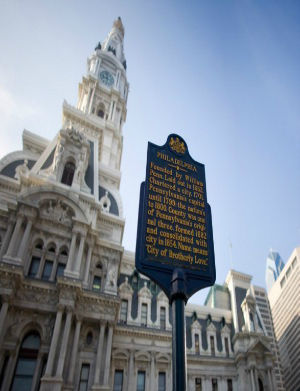 Philadelphia City Hall
PHILADELPHIA – Counsel for a defendant named in food store chain's slip-and-fall negligence case has moved for the case to be transferred to Northampton County, believing the case had no connection to Philadelphia.
Thomas D. Summerville filed a motion for preliminary objections on July 29, seeking transfer of the negligence case filed by Bethlehem's Beatrice Richter against his client, HBI Contractors of Feasterville, plus Giant Food Stores and KRT Property Holdings of Harrisburg and Brixmor Property Group in Conshohocken.
A hearing in this matter was set for Wednesday at Philadelphia City Hall, in Court chambers.
On Oct. 27, the suit says construction repair was taking place at the Bethlehem Square shopping center, in front of Location #6336 of Giant Food Stores. Richter parked her vehicle in a handicapped parking space and exited to walk towards the crosswalk.
Richter then tripped and fell in a grated repair area of the crosswalk, and alleged the negligence of the defendants in failing to inspect and maintain the construction area or warn people of that danger caused her fall. Richter suffered a fractured right knee and elbow abrasions in the fall.
The plaintiff is seeking delay damages, interest, costs of suit in excess of jurisdictional limits and other relief in this case.
The plaintiff is represented by Joseph A. Cullen Jr. of Stark & Stark, in Yardley.
The defendant is represented by Thomas D. Summerville of Snyder Barrett & Wilkinson, Karen M. Ashdale of Comeau & Bunker and Joseph M. Toddy and Michelle Sergent Kaas of Zarwin Baum DeVito Kaplan Schaer Toddy, all in Philadelphia.
Philadelphia County Court of Common Pleas case 150603330
From the Pennsylvania Record: Reach Courts Reporter Nicholas Malfitano at nickpennrecord@gmail.com