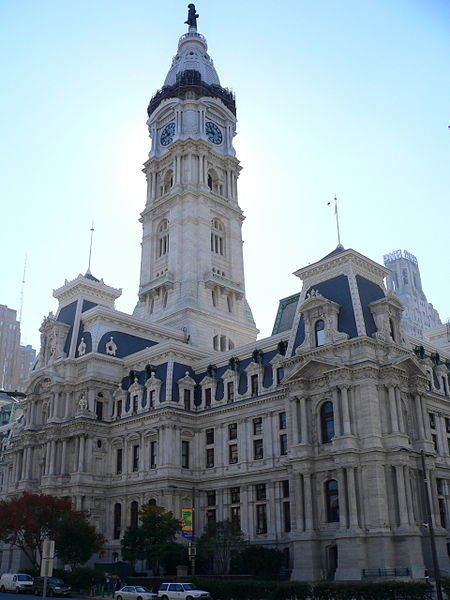 Philadelphia City Hall
PHILADELPHIA – The attorney for a plaintiff in a Philadelphia car crash case has motioned to withdraw her appearance due to a complete breakdown of communication with her client.
Diana R. Kadash filed the withdrawal motion on Sept. 21, and provided backstory of the case. For purposes of discovery and trial, the instant action had been consolidated with Coles v. Watts Et.Al and Cronin v. Watts Et.Al on Sept. 9, 2011.
Due to the incarceration of the other case's plaintiff Mikael Coles, the case was placed on deferred status on June 26, 2012 – however, the instant action was reinstated on Sept. 9, court records say.
In the interim, Watts moved to a new address with a new telephone number. Kadash asserted she had no communication with Watts in more than three years, and cited this collapse of communication and irreconcilable differences as leading her to petition to remove herself as Watts' counsel.
Kadash claimed the early stage of the case would accommodate her withdrawal, as an arbitration hearing is scheduled for Nov. 18.
A hearing in this matter was set for Thursday at Philadelphia City Hall, in Court chambers.
On Dec. 25, 2009, Watts was driving a 2010 Chevrolet Impala owned by Alamo Rental Car southbound on Broad Street, near its intersection with West 65th Street in Philadelphia.
Thomas Cronin of West Deptford, N.J., was driving in the right lane at the same location, and attempted an improper lane change by passing Watts on the right, the negligence of whom caused the accident, according to the plaintiff. The defendant's vehicle was owned by John Cronin of Thorofare, N.J.
In the crash, Watts suffered disc bulges at his C3-C7 vertebrae, segmental dysfunction of his entire spine, cervicalgia, lumbalgia, thoracic pain, strain and sprain of his ankle, foot and shoulder, numbness, tingling and paresthesia, headache, dizziness and other injuries.
The plaintiff sued Thomas Cronin for negligence and John Cronin for negligent entrustment and failure to supervise against John Cronin.
The plaintiff is seeking a sum not in excess of $50,000, plus interest and costs from both defendants in this case.
The plaintiff is represented by Alicia M. Nelson, in Philadelphia.
The defendants are represented by David C. Ray of Bennett Bricklin & Saltzburg, in Blue Bell.
Philadelphia County Court of Common Pleas case 110102408
From the Pennsylvania Record: Reach Courts Reporter Nicholas Malfitano at nickpennrecord@gmail.com