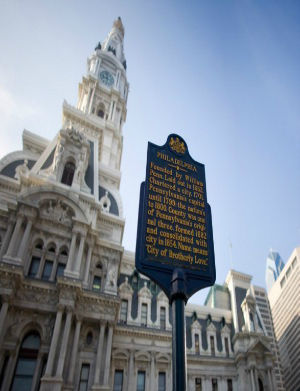 Philadelphia City Hall
PHILADELPHIA – The City of Philadelphia has withdrawn its motion for sanctions directed to a co-defendant in a negligence lawsuit it claims hasn't abided by orders from the Philadelphia County Court of Common Pleas.
On March 11, a judgment had been entered in favor of the City and against Roundtree, in the amount of $43,471.10. According to court records, Roundtree was served with the aforementioned requests from the City on March 19, with a 30-day deadline in which to respond.
When no response was made by June 8, Roundtree was again ordered to respond to the City's Interrogatory and Document Requests. Roundtree responded by replying to the City's interrogatories, but not the requests for documents.
Defense counsel Drew Salaman filed a motion for sanctions against Roundtree on Aug. 11, proposing Roundtree be subject to a fine of $100 for each day his non-compliance continued, along with an extra sanction of $250 for the City's counsel fees.
A hearing on this matter had been set for Friday, but on Oct. 16, Salaman filed a praecipe to withdraw that same motion for sanctions.
Tania Stephens' lawsuit, filed in July 2013, is in connection with an alleged slip-and-fall incident that occurred on July 24, 2011. Stephens fell on a broken and unlevel portion of the sidewalk located on Monument Street, and charged the defendants with collective negligence in not identifying, warning or repairing of the dangerous sidewalk condition.
Stephens originally named Bank of America, Federal National Mortgage Association, Philadelphia Gas Works, Philadelphia Water Department, the City of Philadelphia and Office of the Attorney General as defendants, though Bank of America and Federal National Mortgage Association were dismissed in November and December 2013, respectively.
Stephens claimed to suffer severe, permanent external and internal injuries about the head, limbs and body in the fall, in addition to aches, pains and mental anguish, and financial losses beyond the amount recoverable by the Pennsylvania Financial Responsibility Act.
The plaintiff is seeking judgment in excess of $50,000, plus interest and court costs.
The plaintiff is represented by Warren I. Siegel, of Bernhardt & Rothermel, in Philadelphia.
The defendants are represented by Colette A. Pete, Alton G. Grube, Monica S. Lloyd of the Law Offices of Pamela Hargrove and Drew Salaman of Salaman, Grayson Henry, all in Philadelphia.
Philadelphia County Court of Common Pleas case 130701448
From the Pennsylvania Record: Reach Courts Reporter Nicholas Malfitano at nickpennrecord@gmail.com