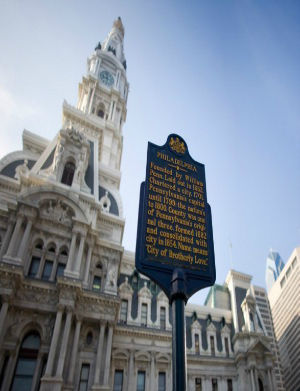 Philadelphia City Hall
PHILADELPHIA – The City of Philadelphia has withdrawn its motion for sanctions against a fellow defendant in a slip-and-fall lawsuit.
Drew Salaman first filed a motion for sanctions on Aug. 5, looking for Philadelphia defendant Linwood Crum to pay a daily fine of $100 and counsel fees of $250 to the City, in connection with allegedly failing to abide by a prior court order to respond to comprehensive interrogatory and document requests.
On March 5, judgment for the City was entered in the amount of $1,098.19. It was further determined on July 2 that Crum was required to provide full and complete answers to interrogatory and document requests within 30 days, which the City alleges he has not done.
However, Salaman filed a praecipe on Oct. 23 explaining the judgment against Crum had been satisfied, followed by an accompanying motion withdrawing the original motion for sanctions against Crum on Monday.
On May 5, 2010, plaintiff Raquel Algarin fell on the 8200 block of Thouron Avenue in Philadelphia, due to a "hazardous condition" present on the sidewalk, she says. Algarin sued Jomo Davis of North Wales, the City of Philadelphia, the Philadelphia Water Department and Philadelphia resident Linwood Crum for their alleged collective negligence in causing the fall.
Algarin suffered injuries to her right knee, back and pelvis in the fall.
The plaintiff is represented by Joe H. Tucker Jr. and Douglas K. Jenkins of Tucker Law Group, in Philadelphia.
The defendants are represented by Monica S. Lloyd of the Law Offices of Pamela Hargrove in Moorestown, N.J., and Sean P. Stevens, plus Drew Salaman of Salaman Henry, both in Philadelphia.
Philadelphia County Court of Common Pleas case 120404193
From the Pennsylvania Record: Reach Courts Reporter Nicholas Malfitano at nickpennrecord@gmail.com