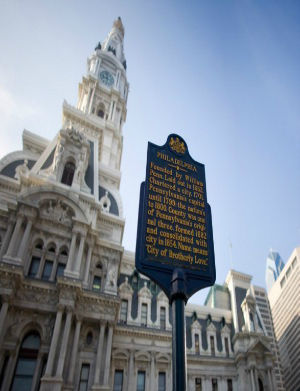 Philadelphia City Hall
PHILADELPHIA – Defense counsel in a slip-and-fall negligence case originating from a Wyomissing shopping mall believe there is "no connection" between their case and Philadelphia County.
Gerard F. Lipski filed a motion for preliminary objections on July 23, stating the subject accident this case is centered on took place in Berks County and the litigation should be heard there. There "is no connection to Philadelphia County from any party," the motion read.
A hearing in this matter was set for Oct. 28 in Court chambers, at Philadelphia City Hall.
On May 23, 2013, water from a heavy rainfall allegedly leaked through the showroom ceiling of the HH Gregg store in Wyomissing, located at the Berkshire West Mall. West Reading resident Marlene Dylle, a store customer, slipped on the resulting puddle created on the floor and alleged the defendants' collective negligence caused her accident, she claims.
Dylle levied charges of negligence against Gregg Appliances of Indianapolis, HH Gregg, Berkshire Mall and Berkshire West of Reading, plus Allied Retail Properties and Concord Mall of Wilmington, Del.
The plaintiff is seeking judgment in excess of $50,000, plus costs, interest and other relief on each charge in this case.
The plaintiff is represented by Michael P. Malvey of Galfand Berger, in Philadelphia.
The defendants are represented by John J. Delany, Andrew P. Campbell and Gerard F. Lipski of Campbell Lipski & Dochney, also in Philadelphia.
Philadelphia County Court of Common Pleas case 150500817
From the Pennsylvania Record: Reach Courts Reporter Nicholas Malfitano at nickpennrecord@gmail.com