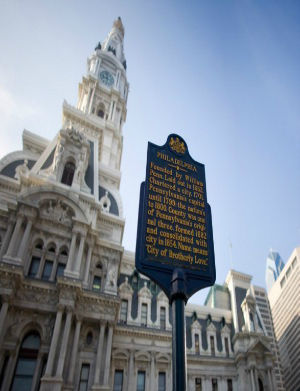 Philadelphia City Hall
PHILADELPHIA – Counsel for defendants involved in property title litigation wishes to be removed from the case due to unresolved conflicts and outstanding costs, according to court records.
Thomas F. Crawford in Langhorne filed a motion to withdraw his appearance on Sept. 11, due to "irreconcilable differences and substantial unpaid legal bills." Crawford stated defendant Emmanuel Okolo filed for bankruptcy on Jan. 6, 2014, and per procedure, the litigation was stayed.
After the stay was resolved and the case reactivated on Aug. 20, the defendants still did not meet their past financial obligations for legal costs, according to Crawford, necessitating his withdrawal from the case.
A hearing in this matter was set for Oct. 29 in Court chambers, at Philadelphia City Hall.
In 2005, the plaintiff entered into an oral agreement to pay $220,000 to the defendants for a property at 2596 Cranston Road in Philadelphia. However, according to the suit, Emmanuel Okolo transferred control of the property to his wife Rosemary Okolo on Jan. 20, 2006.
On Feb. 20, 2006, the defendants borrowed $110,000 without the plaintiff's knowledge using the Cranston Road property as collateral, causing a mortgage lien to be placed on the property, the lawsuit says.
By June 19, 2009, there were liens on the property from unpaid mortgage funds and taxes. All parties involved agreed to list the property for sale and the defendants agreed to remove the lien and bear half the loss if proceeds from the property sale were less than $220,000, the suit says.
The plaintiff has since brought all taxes up to date, secured tenants and collected rent, but the defendants allegedly still have not transferred the title and removed the liens from the property, the suit says.
The plaintiff is seeking a title transfer, equitable monetary relief, removal of a mortgage lien from the property, accounting and payment for all rental income received from December 2005 to June 2009, exemplary damages in excess of $50,000, plus attorney's fees, interests and costs in this case.
The plaintiff is represented by Alan M. Shpigel in Philadelphia.
Philadelphia County Court of Common Pleas case 121002186
From the Pennsylvania Record: Reach Courts Reporter Nicholas Malfitano at nickpennrecord@gmail.com