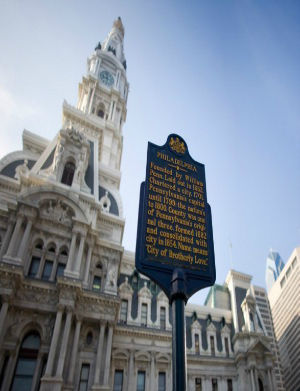 Philadelphia City Hall
PHILADELPHIA – Defendants accused of defaulting on a number of loan agreements with Santander Bank in excess of $1 million received a deadline extension of a hearing in their suit, and are now wanting the case to be deferred due to a pending bankruptcy action.
Thomas H. Chiacchio Jr. filed a motion for extraordinary relief on Oct. 28, explaining defendant Peter Leahy, the primary officer of Leahy Transportation, was under physician's care and unable to participate in a hearing originally slated for Oct. 30. Chiacchio added due to doctor-patient privilege, he was not able to discuss Leahy's medical condition in detail.
Further, fellow defense counsel Thomas D. Bielli filed a praecipe on Tuesday, seeking Santander Bank's case against Leahy Transportation, Peter Leahy and Joseph J. Leahy to be deferred because of Leahy Transportation's pending Chapter 11 bankruptcy proceedings.
A hearing in this matter was set for Thursday in Court chambers, at Philadelphia City Hall.
On Sept. 28, 2012, Santander Bank and the defendants entered into a series of financial agreements to purchase certain collateral through a loan agreement – with further agreements secured through August 2014. It is claimed the defendants met all of their financial obligations with Santander Bank until this past May, and then defaulted on the agreements to an unpaid balance of $1,823,235.50.
Santander Bank also claims possessions of 59 transportation vehicles in the defendants' possession as collateral, but the defendants have allegedly refused to turn them over and Santander Bank has not yet been successful in completing repossession of the vehicles in question.
Santander Bank believes the vehicles are located at a property on Salmon Street, and their value declines through continued use while the defendants allegedly refuse to make payments.
The plaintiff is seeking the unpaid debt balance of $1,823,235.50, plus attorney's fees, interest and other relief in this case. Further, the plaintiff is seeking a Writ of Seizure and the waiver of a replevin bond, in order to complete repossession of the aforementioned vehicles.
The plaintiff is represented by Robert L. Saldutti of Saldutti Law Group, in Philadelphia.
The defendants are represented by Chiacchio and Bielli of Bielli & Klauder, also in Philadelphia.
Philadelphia County Court of Common Pleas case 150701969
From the Pennsylvania Record: Reach Courts Reporter Nicholas Malfitano at nickpennrecord@gmail.com