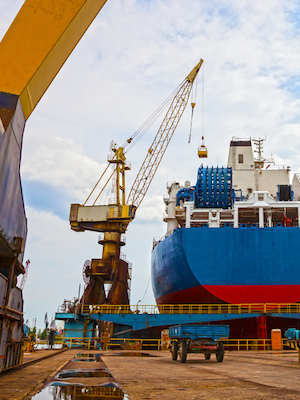 PENNSYLVANIA— A couple is suing maritime vessel owner alleging serious bodily injury in a work-related accident.
Imre and Christie Bende filed a complaint on nov. 24 in the United States District Court for the Eastern District of Pennsylvania against Peacock, Inc., as well as affiliated organizations, alleging negligence and violation of workers compensation acts.
On Feb. 28, 2014, Imre Bende was working on a cargo operation and using machinery owned by Peacock. The heavy machinery being operated by the plaintiff suddenly collided with a part of the ship, throwing the plaintiff into the ship's hold. Bende sustained serious injuries due to the fall and is suing the defendant, purporting that failure to deliver wages after the incident and failure to provide warning beforehand were both illegal acts.
The Bendes are seeking compensation of over $150,000 for all damages suffered. They are represented by Carol O'Donnell of Stark and Stark, Inc. in New Jersey.
United States District Court for the Eastern District of Pennsylvania Case number 2:15-cv-06301