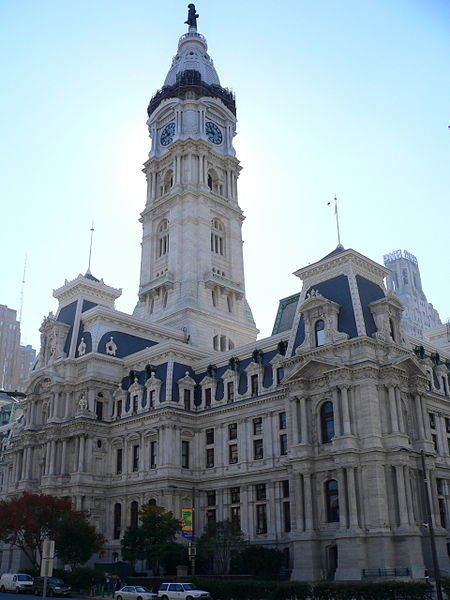 Philadelphia City Hall
PHILADELPHIA – The mother of a minor child who perished in a house fire in 2011 is seeking the distribution of $50,000 wrongful death and survival benefit funds.
William J. Faust II filed a motion for the distribution of those funds on Sept. 30 – with $25,000 going towards costs associated with the wrongful death funds, and likewise, $25,000 towards costs associated with the survival funds.
The $50,000 is to be divided three ways, with plaintiff Sonya Wayne-Clark receiving $32,171.82, Faust receiving $1,766.40 for legal costs and additionally receiving $16,061.78 in counsel fees.
A hearing in this matter was set for Thursday in Court chambers, at Philadelphia City Hall.
On June 6, 2011, Jerry and Yvonne Blassengale were watching Albert Blassengale, and allegedly did not have proper and adequate smoke detectors in their residence. Further, the suit states Jerry and Yvonne, as a result of not having running electricity for an extended period of time, lit a number of candle in the residence. The suit alleges Jerry was an alcoholic and Yvonne should have taken this into account when the candles in question were lit, since the candles subsequently caused a house fire.
Albert was trapped in the fire, suffering smoke inhalation and carbon monoxide poisoning – which proved fatal on June 10, 2011.
Albert's estate and Wayne-Clark filed suit two years later under the Wrongful Death and Survival Acts of Pennsylvania, seeking recoverable damages for "pecuniary loss, medical bills, funeral bills, loss of support, consortium," etc., in addition to suing Jerry and Yvonne for negligence.
The plaintiffs are seeking damages in excess of $50,000, plus interest, costs, delay damage, punitive damages and other relief in this case.
The plaintiffs are represented by Faust in Philadelphia.
The defendants are represented by Gary A. Nau, of Wright & O'Donnell in Conshohocken.
Philadelphia County Court of Common Pleas case 130601333
From the Pennsylvania Record: Reach Courts Reporter Nicholas Malfitano at nickpennrecord@gmail.com