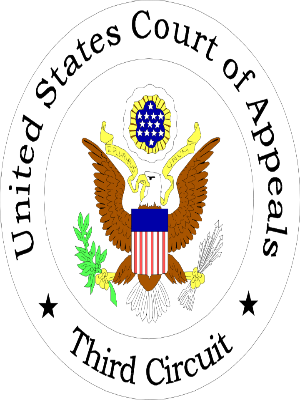 U.S. Court of Appeals for the Third Circuit
PHILADELPHIA – According to the U.S. Court of Appeals for the Third Circuit, the City of Philadelphia and various judicial and law enforcement officials did not act improperly during a Philadelphia man's 2005 state court criminal case.
In a per curiam opinion, judges Thomas L. Ambro, Joseph A. Greenaway Jr. and Dolores Sloviter ruled as dismissed a complaint from Jason Collura, who alleged the City of Philadelphia, Judge Pamela P. Dembe of the Philadelphia County Court of Common Pleas, and several employees of the First Judicial District of Pennsylvania's Probation and Parole Department violated his civil rights during the trial of his 2005 case.
In September 2013, the U.S. District Court for the Eastern District of Pennsylvania dismissed the City from Collura's case for failure to state a claim and when a motion for reconsideration on Collura's part regarding that issue also failed, he filed an appeal of that specific decision. Collura's case against the individual defendants remains in the District Court.
"We exercise plenary review over the District Court's dismissal order, and we review for abuse of discretion the District Court's order denying Collura's motion for reconsideration. For the reasons set forth below, we will affirm," the Third Circuit said.
The Third Circuit explained the District Court "correctly determined" that Collura failed to state a claim against the City.
"In his complaint, Collura alleged that the City was liable to him based upon the actions of the individual defendants. However, both Judge Dembe and the employees of the First Judicial District's Parole Department are employed by the Commonwealth of Pennsylvania's Unified Judicial System, which is an instrumentality of the Commonwealth of Pennsylvania and not the City," the judges of the appeals court collectively stated.
The Third Circuit reiterated that the City cannot be held liable for the alleged actions of Commonwealth employees, the District Court decided correctly in dismissing Collura's claim against the City.
Further, the judges of the appeals court also rejected any perceived notion of Collura's that either the District Court or any of the officials named in Collura's suit abused their discretion with regards to his prior state court case.
"We also discern no abuse of discretion regarding the District Court's decision to deny Collura's motion for reconsideration," the Third Circuit's decision read. "A motion for reconsideration is a limited vehicle used 'to correct manifest errors of law or fact or to present newly discovered evidence.' Collura's motion did not present any valid basis for reconsideration."
The plaintiff represented himself in this matter.
The defendant is represented by Christopher Paul Boyle of Marshall Dennehey Warner Coleman & Goggin in King of Prussia, plus Jeffrey M. Scott and Oleg V. Nudelman of Archer & Greiner, in Philadelphia.
U.S. Court of Appeals for the Third Circuit case 13-4484
U.S. District Court for the Eastern District of Pennsylvania case 2:13-cv-04066
From the Pennsylvania Record: Reach Courts Reporter Nicholas Malfitano at nickpennrecord@gmail.com