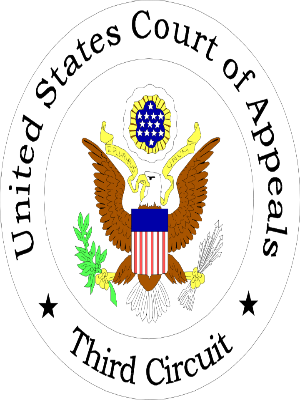 U.S. Court of Appeals for the Third Circuit
PHILADELPHIA – The U.S. Court of Appeals for the Third Circuit has affirmed a trial court ruling that granted summary judgment to a group of law enforcement and corrections officials, simultaneously denying a South Philadelphia man a new trial.
On Tuesday, judges Thomas L. Ambro, Patty Shwartz and Morton I. Greenberg upheld the summary judgment ruling from the U.S. District Court for the Eastern District of Pennsylvania, dismissing the motion for a new trial for Jamie Elliott. In this case, the Third Circuit's decision was of a per curiam nature.
In 1989, Elliott filed a civil rights complaint against a number of defendant law enforcement and corrections officials who he alleged physically abused him during his incarceration (identified only by their last names): Lt. Grace, Sgt. Weaverling, and Corrections Officers, Harmer, Culp, Morris, Park, Polleck, Teller, Ross, Couch, Harper, Cooper and Hammer. Subsequent to a jury trial, the District Court entered judgment against Elliott in 1993.
Court records show Elliott filed an appeal of the District Court's judgment in 1999, which the legal body then dismissed as untimely. Over the following years, Elliott has continued to file motions in that same District Court case.
In April, Elliott filed a motion in the District Court for a new trial. The District Court denied Elliott's motion, after determining that there was no basis to reopen the case. After the District Court denied both his motion for reconsideration and subsequent motion for a new trial, Elliott filed a notice of appeal.
The Third Circuit's opinion said Elliott does not specify the legal basis for his motions for a new trial, which is required for such a circumstance. The appeals court also believed Elliott's motions for a new trial were untimely, as they must be filed within 28 days after entry of the judgment according to Federal Rules of Civil Procedure.
"Elliott's motions for a new trial were filed far beyond that time period. Even if the motions are construed as timely motions to reopen the judgment filed, they fail," the Third Circuit said, adding Elliott "has not presented any extraordinary reasons why the jury verdict from 1993 should be reopened."
Such extraordinary reasoning is mandatory to justify reopening a final judgment, per the appeals court.
"Summary action is appropriate if there is no substantial question presented in the appeal," the Third Circuit stated. "For the above reasons, as well as those set forth by the District Court, we will summarily affirm the District Court's order. Elliott's motions are denied."
The plaintiff represented himself in this matter.
The defendants are represented by Michael L. Harvey of the Attorney General's Office, in Harrisburg.
U.S. Court of Appeals for the Third Circuit case 15-2984
U.S. District Court for the Middle District of Pennsylvania case 3:89-cv-01553
From the Pennsylvania Record: Reach Courts Reporter Nicholas Malfitano at nickpennrecord@gmail.com