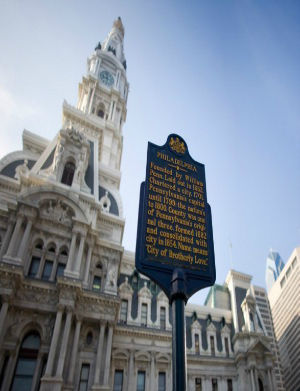 Philadelphia City Hall
PHILADELPHIA – The operator of a Philadelphia fried chicken restaurant, a co-defendant in a slip-and-fall suit, will have an opportunity to show why he should not be liable for sanctions, which the City of Philadelphia seeks to levy against him.
Drew Salaman filed a motion for sanctions on Nov. 30, due to defendant Aziz U. Rahman allegedly not responding to prior requests for comprehensive interrogatories and document requests in aid of execution. Salaman sought Rahman be subject to a daily fine of $100.00 until he complied with the requests, plus a sanction of $250.00 of counsel fees.
Philadelphia County Court of Common Pleas Judge Nina Wright Padilla granted this motion on Jan. 27, ordering Rahman to pay the requested fees and appear for a hearing on Thursday. The hearing was for Rahman to show cause why he should not be found in contempt of said prior order and subject to further sanctions, which may be imposed at that time.
On Sept. 25, 2010, plaintiff Barbara Hamilton was exiting the premises of Lincoln Fried Chicken at 2614 West Girard Avenue in Philadelphia, when she allegedly fell due to a section of defectively-constructed cobblestone, concealed by grass in the sidewalk abutting the store. Hamilton alleged negligence on the part of Rahman and the City of Philadelphia in failing to inspect, maintain or repair the sidewalk.
At the time of the fall, Lincoln Fried Chicken did not maintain liability insurance on the allegedly defective sidewalk, for which Hamilton alleged the City is secondarily liable under Section 8542 (b)(7) of Pennsylvania's Political Subdivision Tort Claims Act.
Hamilton allegedly suffered multiple fractures in her right foot, including lisfranc fractures of her second, third and fourth metatarsals, avulsion fracture of her first metatarsal, soft tissue injury in her right foot, plus bruises, contusions and nervous system shock in the fall.
The plaintiff is seeking damages from both defendants, in excess of the amount required to vest jurisdiction as a major case in the Philadelphia County Court of Common Pleas.
The plaintiff is represented by Kenneth M. Rodgers in Philadelphia.
The defendants are represented by Christopher R. Durso and Stephen A. Corbman, plus Drew Salaman of Salaman Henry, in Philadelphia.
Philadelphia County Court of Common Pleas case 110903199
From the Pennsylvania Record: Reach Courts Reporter Nicholas Malfitano at nickpennrecord@gmail.com